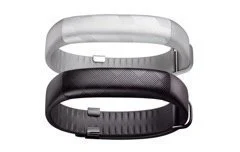 Getprice Buyer's Guide: The best frugal fitness trackers for August 2017
Get yourself an activity tracker that doesn't cost an arm and a leg.
Fitness trackers can be a great way to be a bit healthier, but the higher-end models are not exactly affordable. Fortunately, there are plenty of budget-focused models, so we've put together reviews of the cheapest 10 available in Australia (aside from the Xiaomi Mi Band 2). Prices range from $25, up to $130, with a big spread of features. While there are plenty of very cheap no-name Chinese-made trackers available from overseas, we've stuck to models where a warranty will actually be honoured.
The core functionality of trackers uses an accelerometer to track movements, Bluetooth to sync to a PC or smartphone and some sort of LEDs or display to give fitness goal feedback. Better models include extra features such as OLED displays, vibration motors for alerts, and even basic smartwatch functionality. While some trackers are rechargeable, others use watch batteries that last six months or more.
It's worth noting that while the tracker is important, the true value and feature set comes from the apps, which can analyse the gathered data, track sleep and link into online fitness communities.
How we tested
Each tracker was tested with a mix of activities, such as ultimate frisbee, netball, jogging and walking. Step accuracy was judged by comparing all trackers, as well as smartphone-based movement tracking. The associated fitness apps were tested on a Nexus 6P smartphone.
Is it worth paying a little more?
Available from just $120 – click here to compare the latest prices!

The original, and still excellent, Fitbit Flex is one of the more popular activity trackers and can be picked up for under $100. But Fitbit has now released a new updated version – Fitbit Flex 2 – and while it costs $150 from the official store, it can be found online for as low as $120. There are also loads of different wristband and pendant accessories available for the Flex 2, including jewellery-look metal models. The Flex 2 has a 3-axis accelerometer, but also packs a vibration motor for feedback and alarms, and can provide call and text notifications. The battery lasts about five days and it has a five-LED indicator system. Importantly for many people, the Flex 2 is fully waterproof and can be used for swimming. The Flex 2 is one of the smallest trackers we tested, and measures in at just 31.7mm x 8.9mm x 6.8mm, and comes with two different sized wristbands.
While the Flex 2 itself is a great little tracker, the true value comes from the stand out Fitbit app, which is clean, easy to use and customisable.
Want to know more? Check out the expert review over at our sister site TechRadar.
An older but very cheap tracker.
Available from just $79.95 – click here to compare prices!

A basic clip-on style activity tracker, the Jawbone UP Move also has a range of wristbands available cheaply online. The Move is now about two years old, but that doesn't mean it's not worth a look, as the true value is in the Jawbone app, which has frequent updates. The Move itself uses the standard 3-axis accelerometer to track activity, day and night, but doesn't have vibration feedback, or other options such as heart rate tracking. It connects via low power Bluetooth, and uses a replaceable battery with a 6-month life. The Move is quite compact at 28mm across (but 9.75mm thick), and can take a splash of water, but isn't designed for swimming. The tracker face is one big button, and it uses LEDs to show the time, and fitness goal progress.
While the Move is pretty basic, the Jawbone app is top notch (and the same as the more expensive Jawbone fitness trackers use), with features such as food logging, fitness duels with friends and even a smart coach.
Read the comprehensive review of the Jawbone UP Move on our sister site TechRadar.
Irresistibly affordable.
Available from just $24.88 – click here to compare prices!

Rather than taking a gamble with a cheap but mystery brand tracker on eBay, consider Officeworks' stocked $25 Jolt Crest Fitness Band. In terms hardware, it's pretty good, with a backlit display, accelerometer, vibration motor and Bluetooth connectivity. The tracker sits in a black silicone rubber band — though, there is a coloured three band of extra bands available for $10. The Jolt Crest is sits pretty high, but is otherwise quite comfortable. It's not waterproof, and charges via USB, with about a 3-day battery life in our testing.
The Jolt connects to an Android or iOS app called DayDay Band, and we had no luck linking to third-party apps. Surprisingly enough, it was very easy to sync to the tracker, and shows steps, as well as calculating calories burnt. It also tracks sleep, can display push messages from your phone, can find the band or take a photo when the Jolt is shaken.
While the Jolt Crest experience is somewhat basic, it does work quite well considering the price, and the third-party options are good.
Affordable fitness tracking.
Available from just $31 – click here to compare prices!

Around $10 cheaper than the Misfit Flash, the Misfit Link is sold sans wristband, but offers the same functionality. For those who want to upgrade later, there are also soft silicone wristbands available online (try eBay.com.au) for under $10. In testing, the Link quite accurately tracks steps during the day, and can monitor sleep at night. It doesn't have any heart rate tracking or other bells and whistles, but does use a non-rechargeable battery that is good for 6 months and is water resistant.
The Link connects via Bluetooth, and has a decent but not amazing app for tracking details such as calories burned. It has has an array on LEDs on the face that give direct feedback as to how close you are to specific goals. But what's cooler, is the Link can be programmed as a smart Bluetooth button. For example, it can be used to play/pause music, trigger smart home programs such as lights, take a photo with your camera, or to help find your phone.
An interesting mix of features.
Available from just $139 – click here to compare prices!

Launched mid-2016, the Garmin Vivofit 3 can be picked up online, or at many retailers, for just under $100. It's a wrist-style tracker, but the actual unit itself is removable and there are loads of third-party bands and clips available. The Vivofit 3 does the usual activity and sleep tracking, but does not have a vibration motor.
Instead, it uses a 64 x 64 pixel backlit LCD and audible alerts to give feedback on different goals. On the plus side, this setup means the Vivofit can use a non-rechargeable battery, which gives an impressive one-year life. It also works as a watch, and is actually rated for swimming. On the wrist, the Vivofit 3 is quite chunky, but comfortable. Tracking such as steps were quite accurate, and the audio alert is loud but not annoying.
The other half of the tracker is the app, and while Garmin Connect is fairly well featured, it's not quite as user friendly as some of the competition.
Interested in finding out more? Head over to our sister site TechRadar and check out the expert review.
Stylish as well as practical.
Available from just $119 – click here to compare prices!

Just squeaking in under $100, including delivery if bought online – but do beware of cheaper fakes – the Jawbone UP 2 is also available from retailers such as Harvey Norman and Officeworks for around $120.
The UP 2 is a wrist-strap-style device, and while it comes in a variety of colours, it can't be removed in order to be used as a clip-on tracker. On the plus side, it is very comfortable to wear and the build quality is excellent.
The UP 2 uses an accelerometer to track your activity, and syncs back to a smartphone via Bluetooth. The Jawbone app is top notch, and has plenty of in-depth functionality.
Where the UP 2 stands out over the basic fitness trackers, such as the Move, is the inbuilt vibration motor. This allows the unit to work as a smart alarm when sleep tracking, as well as give physical feedback on other goals.
The UP 2 has a rechargeable battery which lasts about a week, and is sweat resistant but not waterproof.
Want to know more about the Jawbone UP 2? Head over to our sister site TechRadar and check out the comprehensive review.
An activity tracker with a difference.
Available from just $108 – click here to compare prices!

While many fitness trackers also operate as watches, the Runtastic Moment Fun takes a different approach. At a casual glance, it looks just like a normal analogue watch, and is available in range of colours. But the device also packs in tracking tech that competes with most mid-range models.
The Moment Fun has an accelerometer and tracks the usual steps, and movements, as well as sleep. It uses a non-rechargeable battery that lasts about six months, and is fully waterproof. The watch has a little dial that shows progress towards a daily fitness goal, but further info needs a smartphone and the app. Like the better fitness trackers, the Fun has a vibration motor built in and can give gentle wakeups or reminders to get moving.
While very much a normal watch, the Fun is a little thicker than expected, but also comfortable to wear. The Runtastic app is easy to use, but can be a little basic, and more in-depth features cost money. Still, for those who want a watch-style device, it's a solid buy.
Going on holidays soon? These 5 handy travel gadgets will help maximise your trip!