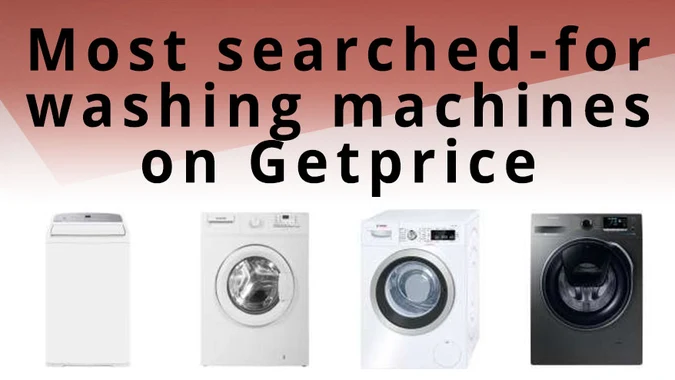 Which washing machine? The most popular front and top-loading washers in Australia
Getprice reveals the most searched-for washing machines in Australia. Find your next front- or top-loader here!
There's a lot to consider for Australians looking to buy a new washing machine. A larger capacity machine is essential for a big family, but you'll also want a machine that's as cheap to run as possible – especially if you use a warm or hot water cycle. Having many different washing programs lets you adjust settings appropriate to the load, and can also lead to less wear and tear on your clothes, which in turn saves money on that front.
The quicker and more effective the spin cycle is, the less time your clothes need to spend in the dryer – and with a big family that can save your household a lot of money. Reliability is key, too, so always choose a familiar, trusted brand because when a washing machine breaks down it can ruin everyone's week!
---
Bosch WAN22120AU
RRP: $1,299 | More info: Official Bosch product page
Here's a high-tech wonder that can make life easy and save you a lot of money. The EcoSilence drive found in Bosch's WAN22120AU Series 4 7.5kg front load washing machine can cut energy use by up to 50%, or reduce running time by a whopping 65%. With a 7.5kg capacity, this is a great choice for couples or smaller families looking for a cheap machine that doesn't cut back on features and performance.
Compare Australian prices for the Bosch WAN22120AU
---
Kogan KAGFLWASH8A
RRP: $359 | More info: Official Kogan product page
You won't find better value than this gem from Kogan. Under $400 for a generous 9kg capacity is a fantastic deal, and the Kogan 8kg Series 7 Front Load Washing Machine doesn't skimp on features, with 15 wash programs and an LED intelligent display. A good Energy Star rating of 4 stars and a two year warranty makes this one very economical to run and a smart purchase for your home.
Click here to compare all Kogan KAGFLWASH8A prices
---
Samsung WW85K6410QX
RRP: $1,299 | More info: Official Samsung product page
The experts at Samsung have been making amazing washing machines for a long time, and the 8.5KG Addwash Front Load Washing Machine WW85K6410QX is a clever front loader that brings the convenience of a top loading machine to a front loader. Adding garments after the wash cycle has started is no problem for this high tech good looker, and the fast spin cycle has a load completed in under an hour, saving you time and money.
Find the cheapest price on a Samsung WW85K6410QX
---
Euromaid WM5PRO
RRP: $599 | More info: Official Euromaid product page
This is the perfect washing machine for singles or couples with limited space. This 5kg machine is an ideal size for small to medium loads and won't consume as much energy as larger models, saving you money. It's a great price and a top choice for cost-conscious apartment dwellers.
Get the best price on a Euromaid WM5PRO
---
Fisher & Paykel WA8560G1
RRP: $999 | More info: Official Fisher & Paykel product page
Power through loads quickly, reducing your energy costs with the 8.5kg WA8560G1 WashSmart Top Load Washing Machine from Fisher & Paykel. This a top choice for people on the go that want a reliable and simple to operate washing machine that's good value and keeps household energy costs down.
Compare more Fisher & Paykel WA8560G1 prices by clicking here
---
Discover more Australian front- and top-loaders at our dedicated Washing Machines homepage