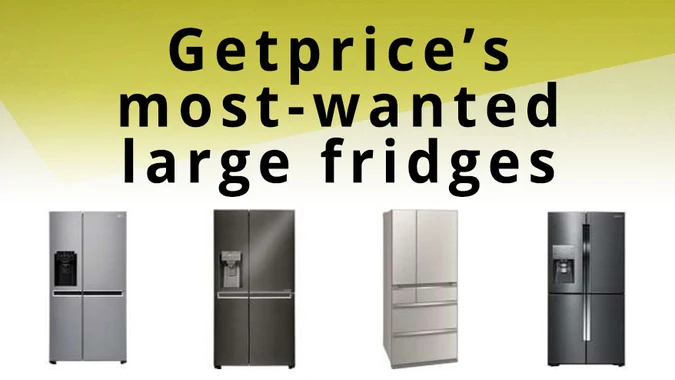 These are Australia's most-wanted French door and side-by-side fridges
Discover five of the top larger-sized family-friendly fridges in Australia for 2019.
Although every home needs a fridge, for those living with larger families, with huge kitchens, or simply a strong cooking habit, you'll be wanting something a little larger. Brands like Samsung, Westinghouse, LG and more are known for making some of the more premium fridges, including French door refrigerators that have their two primary doors that open side-by-side, often with some further drawer compartments.
While we've discussed some of the regular kitchen fridges under 600 litres in capacity in a separate article, this page is dedicated to picking some of the most popular large (over 600 litre) and French door refrigerators in Australia. Once you've found what you're looking for, you can compare prices on the latest models or check out other options in the category.
---
Samsung SRF717CDBLS
RRP: $4,999 | More info: Official Samsung product page
This premium French door beast from Samsung features all the latest tech to make your kitchen life a breeze. Internal ice maker, ice dispenser and water dispenser, coupled with the ability to convert one of the four compartments from a fridge to a freezer makes for a very versatile refrigerator. Its massive 719L capacity is split into four doors and can keep your food within half a degree of a desired temperature. It measures 908mm wide, 733mm deep and 1,825mm tall, so it's suited for bigger kitchens with hungry families, or those that are obsessed with cooking.
Compare Aussie retailer prices for the Samsung SRF717CDBLS
---
LG GSL668PNL
RRP: $2,399 | More info: Official LG product page
If the above Samsung is a little too expensive, the 668-litre side-by-side fridge from LG offers a lot of the same convenience for a reduced price. Packing an ice and water dispenser (and no need to plumb either of them), as well as NFC-enabled smartphone communication in order to track your usage and make it more efficient, this is truly a clever fridge. Standing 1,790mm tall, measuring 912mm wide and 738mm deep, this stunning side-by-side will soon be the centrepiece of your kitchen.
Get a better deal on the LG GSL668PNL
---
Samsung SRF714NCDBLS
RRP: $3,999 | More info: Official Samsung product page
While this Samsung 714L fridge is much the same as the first one on our list, it comes at a considerably lower cost (roughly $700 or so on the street) by sacrificing the water and ice dispensing functionality. It still boasts four main door compartments, one of which can be converted from a freezer to a refrigeration area, and other modular options (like folding shelves to make room for tall bottles). It has the same dimensions as the Samsung SRF717CDBLS, above.
Compare prices for the Samsung SRF714NCDBLS on Getprice
---
Mitsubishi MR-WX743C
RRP: $4,199 | More info: Official Mitsubishi product page
With a total of five ergonomic compartments, this premium 743L multi-drawer French door fridge is ideal for larger families and kitchen extraordinaires alike. A main refrigerator compartment can be accessed via a large door or a smaller one, depending on if you're taking out larger ingredients or just grabbing a drink, and separate ice, freezer, vegetable and Versa drawers keep everything else organised as well. Available in brown, white or silver colours, the MR-WX743C stands 1,821mm tall and measures 800mm wide and 748mm deep.
Find the lowest price on a Mitsubishi MR-WX743C fridge
---
LG GS-D665BSL
RRP: $3,199 | More info: Official LG product page
Streamlined for convenience, this 665 litre side-by-side fridge from LG offers plenty of neat functionality to make kitchen life a breeze. The door-in-door design offers quick access to one of the refrigerator's compartments at the press of a button, while the water and ice dispenser is taller than most in order to accommodate different sizes of vessel. The GS-D665BSL measures 1,790mm tall, 912mm wide and 738mm deep.
Get the LG GS-D665BSL for less by comparing Australian prices
---