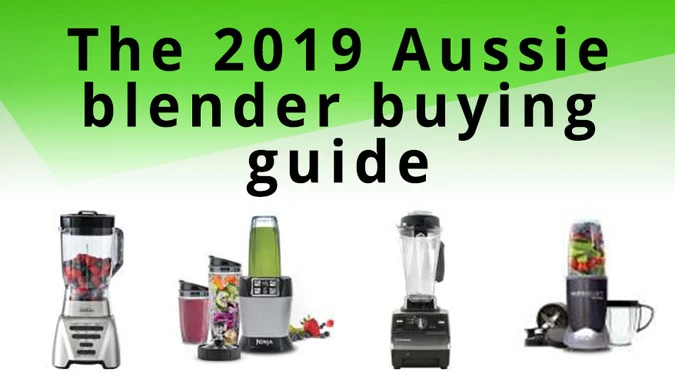 Which blender is best? How to shop for a blender
The Getprice team breaks down exactly what you need to know to choose the right blender for you in 2019.
As we've discussed previously on Getprice, there's a ton of cooking gadgets on the market that can help you whip up all kinds of creations in the kitchen.
Here, we're going to take a closer look at the blender.
When it comes to buying one, you'll have the choice between two types: benchtop or stick (sometimes known as a hand blender). In this guide, we're going to get into the nitty gritty of the more powerful of the two: benchtop blenders.
What comes to mind when you think of blenders are probably fruit smoothies or vegetables juices. These days however, the humble blender can do so much more, helping you prepare meals from breakfast to dinner, and even frozen desserts. Blenders can now chop, mix, purée, liquify and stir to your heart's content, capabilities that will save you time when it comes to both preparation and clean-up. The right machine can create creamy milkshakes or make fresh sauce in seconds. Some truly powerful machines can not only create soups, but also heat the liquid up while they're at it, serving up warm soup in seconds (that's the Vitamix, we'll get to that below).
What to consider when buying a blender
With that said, the first thing you'll want to consider before buying a blender is exactly what you intend to use it for. This matters, because models with all the bells and whistles come with a suitably hefty price tag, and you don't want to part with your hard-earned cash if you won't be making use of the variety of features.
If you primarily want a blender for fresh juices and smoothies, you'll be safe with our picks of single-serve blenders in the low to mid-price range (between $30 to $500).
Blenders at the higher end of the scale come with more powerful motors and sturdy blades that can easily purée vegetables or grind up raw, dry ingredients into pastes such as nut butter. If you're planning on dicing up dry vegetables and nuts, you'll want to be on the lookout for a machine with a durable stainless steel blade and a gutsy motor.
Single-serve blenders – take your smoothie to go
If you're buying a blender in hopes of having a healthier lifestyle on the go, another option to consider before making your purchase is what's called the 'single-serve' blender. These models allow you to whip up your smoothie and then take it out the door with you – all in the same cup. Saving you time and halving your clean-up. When shopping for a single-serve blender, keep an eye out for features such as handled cups and resealable lids.
How much capacity do you need?
Perhaps you're planning on buying a blender to please a crowd. If this is the case, a single-serve blender is not the smartest option. If you want to serve up frozen cocktails for your friends or create enough soup to satisfy the family, you'll need a blender with a large capacity. A blender with easy-to-read measurement markings will especially come in handy for larger servings, ensuring you don't over do it.
Need for speed
When shopping for a blender, you're likely to come across motor power rating, which some brands measure in watts, or occasionally, in horsepower. Wattage typically ranges from 500 to 1200-watts, with one horsepower equal to 746-watts.
However, higher motor power doesn't necessarily translate to better performance. Blade configuration and jug size are also important factors to consider (a smaller jug shouldn't require as much power), so before making your purchase, consider what you want out of your blender and let the manufacturer's specifications guide you.
For example, while the NutriBullet 1000 Series boasts 1000-watts of power, the manufacturer states it is not intended for use as an ice crusher. KitchenAid's Artisan Diamond Blender, however, has a design that allows you to crush ice, despite only having a 550-watt motor.
As a general rule of thumb, single-serve blenders are not as powerful as their traditional benchtop counterparts, and will need liquid before blending hard fruits and vegetables. Some, but not all traditional blenders may be geared towards more heavy-duty tasks, such as making nut butter, milling flour and churning out hot soup.
Ease of cleaning
The idea of delicious fruit smoothies and warm soups does sound enticing… until you consider the clean up.
Before making your purchase, it's worthwhile checking if your new blender is dishwasher friendly. Brands may also tout themselves as 'easy to clean' if the kit comes with removable blades, which can prove handy if the base of your jug is narrow and hard to reach.
A well-sealed control panel is much easier to wipe clean compared to finicky control dials, and you should also take a look at the lid seal. If it needs to be removed for a proper clean, it could prove to be a fiddly chore.
What you can expect to pay
If it's a single-serve blender you're after, models from big-name brands such as NutriBullet and Ninja retail between $159 to $279.
The powerhouse machines for all your blending needs retail for much higher, starting at around $299 for a top-of-the-line KitchenAid.
---
NutriBullet 1000 Series (N100907DG)
RRP: $160 | More info: Official NutriBullet product page
You've no doubt heard of the NutriBullet. The brand popularised single-serve blenders, and at just under 3.5kg, its compact and sleek design will fit nicely in any kitchen without taking up valuable bench space.
It's 1000-watt motor will provide smooth sipping of whatever drink you whip up, and the brand promises most drinks can be made in under 60 seconds.
We also like this one for its single-serve design and resealable lid, making it perfect if you want to enjoy all manner of juices, shakes and smoothies on the go.
Click here to find the best NutriBullet 1000 Series prices in Australia
---
Ninja Nutri Ninja with Auto IQ BL480
RRP: $190 | More info: Official Ninja product page
This neat little single-serve blender by Ninja has many similarities to the NutriBullet, though what sets it apart are its built-in blending programs.
At the touch of a button, you can blend or pulse your ingredients together, rather than the push and twist motion needed for the NutriBullet.
The simplified button functionality means the Nutri Ninja comes with a higher price tag, but these programs can ensure you'll get an even texture every time.
This particular model is lighter at 2.2kg and comes with 500ml, 700ml and 900ml cups which you can sip from directly each with a resealable lid. The measurement markings are a nice addition that's helpful when you're prepping more complex drinks.
Click here to find the best Nutri Ninja with Auto IQ prices in Australia
---
Sunbeam PB8080 Two Way Blender
RRP: $199 | More info: Official Sunbeam product page
The Sunbeam Two Way Blender is bulker than the Nutri Ninja, but it boasts three pre-programmed recipes – smoothie, chop/salsa and milkshake – and a large eight cup pitcher to handle your needs.
This model features a 1100-watt motor with a 2 litre jug capacity, and stainless steel two-way blades which change direction and promise a smooth, even blend.
In addition to the pre-programmed recipes, you'll also have the option of four manual settings, so you'll have more control over texture.
Click here to find the best Sunbeam Two Way Blender prices in Australia
---
KitchenAid Artisan Diamond Blender KSB1585
RRP: $299 | More info: Official KitchenAid product page
KitchenAid's Artisan Diamond Blender is a great choice if you're wanting more out of your blender than fruit smoothies and juices.
This model has a 550-watt motor and handles large capacity blending with its eight cup pitcher, making it easy to prepare multiple drinks for family or friends.
The kit weighs in at 4.5kg and comes with five speed settings and a nifty ice crushing feature, perfect to make cocktails for a crowd.
KitchenAid arguably also makes the most stylish blenders you'll find, with this model coming in the brand's classic red, black, cream and silver colour options.
Click here to find the best KitchenAid Artisan Diamond Blender prices in Australia
---
Vitamix Professional Series 500
RRP: $1,095 | More info: Official Vitamix product page
Let's talk about the Vitamix Professional Series 500. This machine is a beast and a serious step up in your blending game.
For a start, this machine packs a two horsepower motor. It's this powerful component that allows you to not only blend vegetables into soup, but serve it piping hot when you're done.
The heat comes from the sheer speed and friction of the blades. You can even scramble eggs using this Vitamix, and with a 2 litre jug capacity, there will be enough for everyone.
It features variable speed control, so you can control the texture of your concoctions whether you want a smooth purée or a chunky salsa.
Weighing in at 4.95kg, make sure you have space on your bench for this powerhouse blender.
Click here to find the best Vitamix Professional Series 500 prices in Australia
---