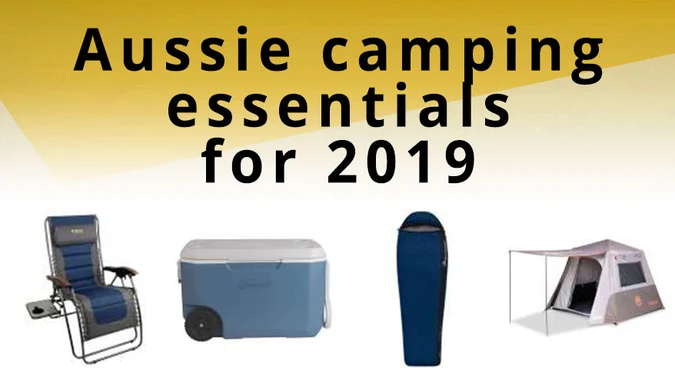 Australian camping essentials: the gear you need for a great outdoor experience
The Getprice team breaks down exactly you need for your next camping trip.
Envisioning summer this year, we can't imagine anything better than a good ol' camping trip. There's nothing quite like emerging from a deep, peaceful slumber at your favourite camping site, hearing the birds singing and watching the sun rise. Sounds amazing, right?
Before you start packing your bags to your favourite camping spot, there are a few essential things you need to take with you.
1. Tent
Having a space that protects you from the elements (and from bugs!) is essential for any camping trip. Summer is a time that brings out all sorts of creatures, so if you're in an area that is surrounded by bushland, it's important to be zipped up at night. Also, as Australian weather can be quite dramatic, there is often no telling if a sudden cold front will drop the temperature by 20ºC, or maybe even bring a drizzle of rain – so you want to be prepared for any weather occasions.
Here are the main factors you need to consider when choosing a tent.
Number of people
When thinking tent, the first factor you need to consider is size. How many people are going to be in the tent? Do you want to sleep a whole family, a couple, or just yourself? Do you have a lot of equipment that you need to store in the tent as well?
Tents are measured to fit adults shoulder to shoulder, so there's not a lot of wiggle room. If you want extra space so you don't feel like sardines – or want to store gear and still have room to sleep, you'll want to consider going up an extra size (or two). General rule of thumb when buying a tent is to go one to two sizes up. For example, a family of four would be comfortable in a six-person tent.
Weather conditions
All good tents will come with a two-, three- or four-season rating.
• Two-season. Two-season tents are only really suitable for warmer weather, as they have the least amount of temperature protection. This also makes them lighter, so they're perfect for the summer/spring time.
• Three-season. These are the most popular option, as they offer protection from the elements (ie. rain) without being too heavy. These tents are suitable for use in summer, spring and autumn.
• Four-season. The most expensive and the heaviest of the tents, four seasons models are designed to keep you dry and warm in any weather and at any time of year. These tents are best suited to snowy periods and use at elevations above the cloud line. Despite the name, they're not really suitable for warmer months, as their design limits ventilation – so they can become very hot and stuffy in summer or spring.
Material
• Cotton/canvas. Cotton/canvas tents are great at insulation and ventilation, meaning they keep you warm in the winter and cooler in the summer. Another great benefit of cotton is that it's less prone to condensation. There is a caveat to cotton/canvas tents, in that prior to use they do need to go through a 'weathering' process – which draws the stitching together and tightens the seams to seal the tent, completing the manufacturing process. You can choose to skip this step however, be prepared for some leaking around the seal for the first 2-3 of rain.
• PVC-coated. Some cotton tents have a polyvinyl chloride (aka PVC, which is a type of plastic) coating on the exterior, so there is no need to go through the above weathering process as they're already fully weatherproof. When purchasing a PVC-coated tent, it's important to have ventilation openings in the tent as the PVC increases condensation.
• Polyester-cotton. Polyester-cotton is a great material, as it's both sturdy and hard-wearing. This tent will last you for a long time (as long as you take care of it) and is waterproof as the polyester is woven with cotton. Most polyester-cotton tents also come with an additional waterproof layer. This tent is a great choice for a quality tent and is also more affordable compared to the majority of other fabrics.
• Polyester. One of the more popular fabrics, polyester is more durable than nylon so is used by many manufacturers. Polyester tents come in a range of prices, so it's important to do your research before making your purchase. Comparing polyester with other fabrics, it comes very close to poly-cotton, however polyester will not shrink or get heavier when exposed to rain. Polyester tents are also less affected by sunlight, making them great summer tents!
• Nylon. Nylon tents are perfect for the summer months! Light and affordable, it's a great choice for people who are casual campers and just need a simple tent to appease the occasional summer escape. Like polyester, nylon is also waterproof and won't shrink when exposed to rain. Depending on your budget, you can find nylon tents with a coating of either silicone or acrylic, which helps improve durability.
Weight
How will you be transporting your tent? Are you going a long way from your car? Before choosing a tent, you need to consider how far you'll be carrying, what your own physical capabilities are and what else you're bringing with you. Opting for something lightweight is always the best option if you're unsure, or want to venture a bit further afield and not just plonk down right next to your vehicle.
Ease of use
Unless you have a small army of people helping you, you probably don't want to spend hours on end setting up your tent. Some tents look great in the store, but could have taken hours to be assembled, so checking over any instructions and asking sales assistants how long it will take can ensure you're not wasting precious time when your out in the wild.
2. Sleeping bag
Outer shell material
• Nylon, Polyester, Taffeta. Best for indoor or light camping trips, these synthetic materials are not the most sturdy. However, their lower cost makes them a good choice for campers on a budget that aren't looking for anything too serious.
• Ripstop. A more premium fabric, Ripstop is nylon or polyester that has been interwoven with heavier threads to create a more heavy duty and durable material. A great choice for those who are a little more adventurous and need to be prepared for any weather conditions.
Inner lining material
• Nylon, polyester, taffeta. The most popular lining fabric due to its winning combination of softness and breathability. Available in a wide array of sleeping bags at various price points, suitable for car or general camping in the spring/summer months when temperatures are moderate.
• Polycotton. A softer fabric, but also one that takes longer to dry so it's not ideal for winter. It's generally recommended that sleeping bags with a polycotton lining only be used in summer or indoors.
• Silk. A very breathable and smooth fabric that can greatly improve comfort, but also the most expensive option. Note too, that silk can be ripped easily, so it's not as well-suited to harsh conditions.
Stuffing type
There are two common types of insulation that are used in sleeping bags today:
• Down. A type of very soft bird feathers, down has many advantages when used in sleeping bags: it's lightweight, easy to compress, great in cold conditions and long-lasting. A tad more expensive than the alternative, but a great choice if you're braving colder, wintery conditions.
• Synthetic. Synthetic insulation is quick-drying, insulates when wet and is a perfect choice for people with allergies, as it won't cause irritation like down sometimes can. It's a great choice for an affordable price.
Sizes
Sleeping bags are sized by length, so when choosing a bag, go with how tall you are. For example, if you are 5 feet tall, you'd want to aim for a bag that measures the same length.. Note though that all sleeping bags include extra room so they're not constricting – there's an additional 8 inches to allow for a bit of movement.
Shape
There are three main types of sleeping bags:
• 'Mummy'. Think 'ancient Egyptian sarcophagus' when picturing the shape of a 'mummy' sleeping bag: they're narrow at the feet and tighter around your body, which creates more warmth for maximum insulation. A mummy bag also comes with a hood, which helps hold in heat.
• Semi-rectangular. This style of sleeping bag has more legroom and suites a wide array of temperatures. Anybody who moves a lot in their sleep will appreciate this design, and it also converts into a blanket which can be quite useful for the warmer months.
• Rectangular. This design provides the most space you can get with a sleeping bag. Equal in width from the top to the bottom, rectangular bags are great for warmer climates and general use, making them perfect in combination with camping beds, car camping or sharing with someone else.
Temperature rating
All sleeping bags generally have some kind of temperature rating, and as with tents, the season and conditions in which you camp are the defining factors that should decide what temperature rating you're going to need. Do you go camping all year round, or only when it's hot... or cold?
These are the three ratings you can choose from:
• Summer: +5 to +10 | Feels like you're sleeping with a light blanket or sheet
• All rounder: 0-degree | Feels like sleeping with a standard duvet at home.
• Winter: - -5 to -10 | Something a bit more snug, like having an additional blanket (or two).
If you see a sleeping bag that's marked with EN13537 or EN23537, this indicates that it has been tested to a strict EU scientific standard, and should therefore tell you exactly what kind of temperatures the bag can endure.
Price range
Your average sleeping bags (those that have a temperature rating between +10 and -10) can range anywhere between $50 to $350 in Australia. The brand, size, type and overall quality of the materials and construction of a bag are what determines the price. If you're the type that likes your outdoor adventures more extreme, sleeping bags meant for harsher conditions can range from $350 all the way up to $1,000 or more.

3. Cold food storage
Unless you want to contract salmonella from poor food refrigeration (OMG, that's so last century) on multi-day camping trips, some form of cold food storage is essential. Not only does refrigeration help keep that nasties at bay, it keeps your food fresh and lasting longer, ensuring that everything you packed will last the duration of your trip.
When it comes to coolers (or Eskies, as most Aussies prefer to call them), there a three different types on the market:
Soft coolers
Soft coolers are easy to lift and are readily transportable, as they're made with lighter materials than the traditional hard cooler counterpart. However, these coolers also have more limited storage capacities, so they're primarily intended for one day events, rather than multi-day camping trips.
Hard coolers
These are exactly what most Australians picture when we think of a cooler or Esky. Hard coolers are typically large, sturdy plastic boxes, and most include a handle and wheels to make them easy to manoeuvre – useful, as they can get quite heavy when filled with cold food and ice. Hard coolers come in many sizes and are rated by capacity, which ranges from 20L to 350L. They can keep food cold for over a week and can even be used as a seat! The most 'go-to' cooler for camping.
Powered coolers
Powered coolers (which are really just portable fridges) do not use ice or ice blocks to keep your food cold – instead, they're powered by an external power source. They're great if you're going for long camping trips and plan on staying close to your car, as you won't have to worry up filling up the ice when its melts. The down side is that, as with any electrical appliance, you need to keep them juiced up. Many modern models have built-in rechargeable batteries, however, and in those cases you won't need to keep them permanently plugged in. As mechanical devices, they also may require maintenance or (eventually), a replacement battery – and likely won't last as long as a hard cooler – many of which can go for decades. However, this is a decent investment and if you're serious about car camping, this is an essential.
4. Camping chair
A no brainer when it comes to camping. Unless you want to go the natural way by sitting in the ground or a log, which (trust us) gets old quickly. Camping is all about getting away and relaxing, so having a camp chair is a must – and ideally, one with a drink holder!
Ultimately, a camping chair should be comfortable, lightweight (especially if you're planning on lugging it around by foot) and sturdy. The main variable when it comes to camping chairs is weight; the more cushioning and extra features a chair has, the heavier it will be. It's something to keep in mind if you need to be light on your feet.
To get you started on your adventure, we've put together this quick list of some of the most popular camping products listed on Getprice.

---
Oztrail Furniture Sun Lounge Jumbo
RRP: $189.99 | More info: Official Oztrail product page
Be the envy of your friends and relax in style with the Oztrail Furniture Sun Lounge Jumbo. Sure, you could get something a bit smaller and cheaper (and that's completely up to you) but if you want the ultimate glamping experience, this chair is for you.
The Sun Lounge can hold up to 150kg, has comfortable ergonomic timber armrests, a nifty side table with cup holder, adjustable headrest and homely padded seat and backrest. If this chair was a car, it would be a Bentley.
---
Coleman Silver Series Instant-Up Tent
RRP: $399.99 | More info: Official Coleman product page
Need a tent but don't want the fuss of spending hours putting it up (and all the unnecessary stress that comes with it)? No worries! The Coleman Silver Series Instant-Up Tent has got you covered. Setting up this bundle of joy takes under 2 minutes and it's quite tough with an in-built frame hub, welded floors and inverted seams to keep water out, and there's also large windows with roll up rear flaps and internal cord management.
The best part about this tent is not only its easy set up but also, its comes with a large front awning! The perfect place to situate your new Oztrail Furniture Sun Lounge Jumbo chair.
The Coleman Instant-Up comes in an array of different sizes that are designed to accommodate anywhere from four to 10 people.
---
Engel MR40F Eclipse Portable Fridge/Freezer 38 (litre)
RRP: $919.00 | More info: Official Engel product page
Need something that can both refrigerate and freeze food, and don't want to worry about maintaining it with ice or ice packs? Look no further than the Engel MR40F Eclipse Portable Fridge/Freezer. This portable cooler has a 38 litre capacity (50 x 375ml cans), can drop the temperature by as much as 50ºC from ambient, meaning it can be used as a fridge or freezer (though note that it can't do both at the same time), is thermostat controlled, has a powerful Japanese-made Sawafuji motor and is relatively light for a portable fridge at just 22kgs.
If you're looking at purchasing one of these super convenient bad boys, you're going to need to charge it. It can run off either a 12V or 24V car plug, or the 240V connections available at many caravan parks.
---
Coleman Xtreme Wheeled Cooler 58 (litre)
RRP: $209.99 | More info: Official Coleman product page
If you think purchasing a fully-fledge portable fridge is a tad extreme, your next best bet is something like the classic Coleman Xtreme Wheeled Cooler. With a retro design and style that's sure to bring back some nostalgia for those of a certain age,, this Esky is extremely light weight, easy to clean and built to last. Holding an impressive 58.7 liters, this cooler is completely rust proof and can keep ice cold for up to 5 days, even in external temperatures of 32°C.
Coleman is also attempting to be a bit more Earth-friendly but using low-Co2 insulation, which reduces the carbon emissions produced when manufacturing foam.
---
Sea to Summit Trailhead ThII - WaveLoft Sleeping Bag
RRP: $199.00 | More info: Official Sea to Summit product page
It's often difficult to get a good night's sleep when you're camping, but the Sea to Summit Trailhead Thll sleeping bag looks like it can deliver just that… and at the very least, it'll keep you snug at night. Along with an amazing set of features that include 30D DWR Nylon shell and 20D Nylon lining (lightweight and compressible), lining fabrics attached to shell to prevent tangles and oversized zip draft tubes with anti-snag to preserve heat. What's unique about this sleeping bag is the WaveLoft construction that uses thick layers of insulation that trap clusters of warm air, keeping you toasting in chilly weather.
The Trailhead II temperature rating (as per EN13537 standards) is:
Comfort: 5°C | 40°F

Lower Limit: -1°C | 30°F

Extreme: -16°C | 4°F
In addition to this, the sleeping bag tapered rectangular shape offers more space and comfort than a traditional mummy bag and has a full-length side and foot zip, so it can double a handy quilt or picnic blanket.
---