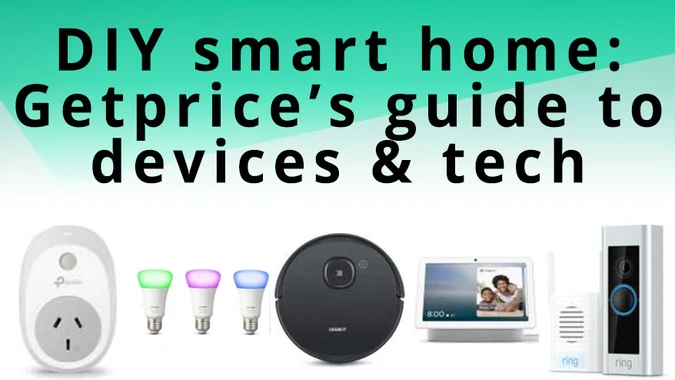 DIY smart home: the best devices to upgrade your Aussie abode

Transform your boring old regular home into a smart one, with Getprice's guide to essential smart home gear and technologies
Unless you've been living under a rock, you would've heard all about the new crazy technological developments that are invading homes across Australia.
Smart homes are becoming the new norm – smart doors, speakers, lights, and more – there's almost anything that can be techno-fied these days!
If you're wanting to create your own smart home but aren't sure where to start, or you're simply curious as to what smart products can do for you, we're here to help break it down so you can be 'smart' about your purchasing decisions.
What exactly is a smart home?
Simply put, a smart home is a house which contains electronic household appliances or gadgets that are able to connect, share and interact with users and other smart devices on the Internet of things (IoT). The more of these gadgets you have, the smarter your home will become, giving you more control over how your household functions.
Is it difficult to create a smart home?
You might be wondering how strenuous constructing a smart home may be – that all depends on your level of understanding when it comes to technology and how far you want to go. Be warned though, once you start going down the technological rabbit hole, it's hard to stop.
To get started, you will need the following as a minimum:
- A strong Wi-Fi signal that will reach your IoT gadgets
- A smartphone, tablet or smart speaker to control your devices
You may be required to set up a system directly to your modem or router to service as a proprietary signal between the smart device and your home network, but this is uncommon.
Tech companies are all about ease-of-use, so smart devices are generally straightforward to set up – things will only get tricky when you're connecting multiple devices through one or more smart hubs that are controlled by numerous people.
What is IoT?
As discussed earlier, IoT is an acronym for 'Internet of things' – the Cambridge dictionary defines IoT as:
"objects with computing devices in them that are able to connect to each other and exchange data using the internet".
Many new gadgets will be part of the Internet of things; a smart home may have plenty or just a couple of these devices. With each gadget you add, the more connected your home becomes.
What are the benefits of a smart home?
There are a vast number of advantages to smart home automation as these nifty gadgets are not only fun to use, but also extremely practical – see below for some examples on how a smart home can be beneficial:
1. You can manage all your home devices from your phone or tablet
The main factor that plays in almost everyone's mind when they consider or purchase a smart device is convenience. Being able to keep all of your gadgets connected to one device – either through your phone or tablet – it a huge benefit, especially given the average Australian household has 17 connected devices in 2018, with an expectation to increase to 37 by the year 2022.
2. Increase your home security
Adding smart security systems and surveillance cameras to your home ecosystem is hugely beneficial to your safety. There's an abundance of options currently on the market, such as smart cameras, door locks and door bells.
3. Remote access to your smart devices
Did you know that you can still control your smart home devices even though you're not home? During hot weather, you could turn on your air-conditioner with just a click-of-a-button on your smartphone before you get home from work. If you're in a rush and need to get dinner started, you can turn your oven on to preheat while you're at the store. The possibilities are endless when it comes to remote access of your various devices and it comes with a huge convenience factor.
4. Increased energy efficiency
If you're using a smart home device that comes with electricity monitoring (e.g. Phillip HUE lights), you can use the information to reduce your electricity consumption. This will help your pocket when it comes to bill time and will also benefit the environment by reducing your carbon footprint.
Lights can also be programmed to automatically switch on and off as you enter or leave a room, limiting energy wastage.
5. Improved appliance effectiveness
Smart home devices improve the effectiveness of the task that it is assigned to it. For example – a smart oven will ensure your roast lamb is cooked to perfection through advanced thermostat technology and monitoring; a smart TV will help you find programs and movies that are more suited to your taste based on your previous viewing history. These minute improvements help with the overall efficiency of your home life, making it much easier and pleasant as a result.
6. Home habit insights
Another great benefit of smart home devices is the insight they can provide you. You can monitor how often you watch TV, how much energy you consume and even your sleeping habits. You can use this data to analyse your daily routine and behaviour to make adjustments to your lifestyle.
What are the main types of smart home devices?
Smart speakers and smart assistants
A smart speaker is a device which has a virtual assistant integrated that offers interactive actions and hands-free activation. Smart speakers have Wi-Fi and Bluetooth inbuilt, so you can connect the speaker to other smart devices for systematic home automation.
Google Assistant, Siri and Alexa are forms of software installed in smart speakers which operate through voice command to perform tasks or answer queries. These virtual assistance are utilised to conveniently operate other smart devices without having to manually control the appliance.
For example, say you're in the middle of cooking and you're up to your elbows combining all the ingredients to make your famous meatballs. Suddenly, you decide you want to play some suitable mood music – simply state "Hey Google, play kitchen playlist on Spotify" and before you know it, you'll be jiving to your favourite tunes without ever having to wipe your hands.
Once you get comfortable in operating your devices through voice command, you can expand your horizons to create your own phrases that can operate multiple gadgets at the same time. For example, you could programme your smart assistant to dim the lights and turn on your TV with the command "It's movie night".
TVs
Before the days of 'Netflix and Chill', our TVs only did one thing: Receive signal from an HDTV antenna, cable or other A/V source to supply us with the best free-to-air TV that the networks had to offer – or if you were lucky, Foxtel's marvellous selection of American sitcoms.
But those days are now gone (thank goodness) and nowadays, you'll find it hard to purchase a new TV that's not 'smart' – even most budget models have Netflix and YouTube pre-installed.
Smart TVs offer internet connectivity that offer access to a range of apps, allowing you to stream movies and your favourite shows from the likes of Netflix, Stan or Disney+, check social media and even connect it to your smart speaker to complete your smart home ecosystem!
Many TVs now also include built-in voice recognition tools like Amazon Alexa and Google Assistant so you can access streaming content and channel surf without lifting a finger.
As smart home devices are becoming increasingly popular, TV manufacturers are integrating smart home features with every new model produced. Many TVs are now compatible with other connected devices in your home, including lights and door locks.
Lighting
A smart light is an internet-connected bulb that can be controlled via an app – smart lights can be turned on and off, dimmed and if it's an LED bulb, you can even change its colour.
You can adjust the brightness of the bulbs through the app and also schedule smart lights to automatically turn on/off at different times. In addition to this, you can get creative with different light settings and create your own 'mood-lighting' for any occasion such as dinner, reading or watching movies.
These lights are also great when it comes to conserving energy and reducing your carbon footprint as most provide insights into your electricity consumption, allowing you to adjust your usage. You can also set the light to automatically turn on/off when you enter or leave a room, so you'll never have to worry about lights being left on unnecessarily.
Home security
There's an array of smart home security devices on the market – one of the most common devices is the smart camera, which can connect to your Wi-Fi network and can be controlled and monitored through an app on your phone or tablet.
You can couple this with a smart lock and door bell so you can see who is at your door – even when you're not home – and even answer your visitor through your phone speaker. On a higher level of smart home security, you can set time-limited keys to your property, allowing others to gain access to your property while you're away.
General appliances
You would be surprised at how many of your general day-to-day appliances now have internet connectivity – fridges, ovens, washing machines and even microwaves have joined the 'smart' club and have numerous uses, such as notifying you via your smartphone when your food is cooked or washing is finished.
Smart fridges with internet-connectivity allow you to control your refrigerator from other smart devices. Some smart fridges have virtual assistance integrated as well as internal cameras so you will always know if you're out of milk.
Smart switches are also nifty devices that can either be controlled from your phone or by voice command – simply plug any 'dumb' device into the switch and it automatically becomes a smart gadget. You can now turn on your old lamp remotely before you arrive home or check you didn't leave the oven on.
How much does a smart home cost?
The cost to install smart home devices depends on your budget and needs – you may only want a few gadgets or you might want to deck out your home with the latest and greatest in today's IoT devices.
So you've got an idea of how much it will cost you, we've broken down the estimated cost of creating a smart home from beginner to expert.
Basic: $100 - $500
If you're not that fussed and really only interested in a smart speaker or a smart light, then you're looking at around the $500 mark, max. Basic Google and Amazon smart speakers generally retail for around $50-$80 and singular bulbs are around $90 on average.
Intermediate: $500 - $3,000
This is where we start to get a bit more serious with our smart home ecosystem – you would be surprised at how quickly you can rack up a hefty bill if you're looking to deck-out your home with today's best smart home tech. In this price range, we're estimating the cost of smart TVs, entertainment systems and lights (depending on brand and quality) could cost you around 3k.
Advanced: $3,000+
This is where it gets fun and interesting – in addition to the basics of smart speakers, lights and TVs (which are all pretty standard in today's society), you could also consider expanding into the realms of full house automation, which will likely require the latest products from leading brands. We're talking about smart refrigerators, washing machines, home security and even robot vacuum cleaners to turn your home into a technologically-advanced sanctuary.
Let's be real – the process of increasing your home's IQ will likely cost you some serious dough. That said, if you're into technology and lets be honest, are a bit of a geek, then price will likely come second the feeling of living in a futuristic home.
Although, as time goes on, the price of smart gadgets will drop in price and become more affordable so you will eventually be able to deck out your pad with the latest innovations without the hefty price tag.
The future of smart homes
It's hard to say what the next 10 years will look like for smart devices. With the evolution of smart home technology, along with the introduction of new and innovative products and design as well as the development of AI, the future is open to interpretation.
However, there is no doubt that we will begin to see more technological advancements in smart home devices in the very near future, as the market is reportedly expected to reach $112.8 billion by 2024. The major growth drivers are said to be from the increasing awareness of safety and cyber security, as well as consumer needs for simplicity and the rising trend of cloud-based tech.
Regardless of what will happen in a few years time, the future is now with smart home devices. So, in an effort to set you off on your technological journey, we have listed some of the most useful and popular products on today's market to get you started:
---
Google Nest Hub and Google Nest Hub Max
Nest Hub RRP: $199 | Official Google product page
Nest Hub Max RRP: $349 | Official Google product page
A great way to kick off your smart home future is by investing in an entry-level smart home device. The Nest Hub and Nest Hub Max are Google's top-of-the-range smart displays and have some incredible features to help you manage your home.
The Google Nest Hub and Nest Hub Max are almost identical in design, interface and features, however, there are some notable differences – we've taken the liberty of listing them below to help you in your purchasing decision:
Display
- Nest Hub Max: 10-inch, 16:10, HD, touchscreen
- Nest Hub: 7-inch, LCD, touchscreen
Sound
- Nest Hub Max: 2.1 speaker
- Nest Hub: Full-range speaker
Camera
- Nest Hub Max: Built-in 6.5MP camera
- Nest Hub: No camera
Colours
- Nest Hub Max: Chalk and Charcoal
- Nest Hub: Chalk, Charcoal, Aqua and Sand
Features
- Nest Hub Max: Google Assistant, YouTube, Chromecast, smart home control, digital photo frame, music, Duo audio and video calls, gestures, Face Match, security camera
- Nest Hub: Google Assistant, YouTube, Chromecast, smart home control, digital photo frame, music, Duo audio calls
It should be noted that even though both hubs have Chromecast functionality, Netflix is unable to be streamed from this device.
Price
- Nest Hub Max RRP: $349
- Nest Hub RRP: $199
All in all, they are both great devices – it's really up to you and your budget to determine which one is best for your needs.
Click here to find the best Google Nest Hub prices in Australia
Click here to find the best Google Nest Hub Max prices in Australia
---
Philips HUE E27 starter kit
RRP: $149 | Official Philips product page
If you're thinking about integrating smart lights into your home, then you'll want to consider the Philips Hue. Available in singular bulbs or a handy starter kit, these smart lights will take the ambiance in your home to a new level. With these bulbs, you'll be able to change between warm and cool light, and also a variety of colours. They also allow you to connect your home's lighting to your music, TV and games for a more dramatic effect. This is all controllable from your smartphone or tablet – you can turn them on or off, or shift their colour and brightness to your taste. You can even group lights together and set them on a schedule to turn on as you enter the house.
The E27 starter kit is the perfect jumping-off point for your smart light journey. The pack includes:
- 3 x E27 bulb
- Bridge included
- White and colored light
In a review by TechRadar, the site described Philips Hue bulbs as "among the best smart bulbs on the market today", and we absolutely agree with that position.
Click here to find the best Philips HUE E27 starter kit prices in Australia
---
TP-Link HS110 Smart Wi-Fi Plug with Energy Monitoring
RRP: $49.95 | Official TP-Link product page
The TP-Link HS100 is a smart plug that's also capable of monitoring your electricity consumption. Controlled through the handy and free Kasa app, you can remotely access any device that's connected to the smart plug whenever you're connected to the internet. Monitoring your energy usage is also done through the app – perfect for reducing electricity bills and your carbon footprint.
There's also an 'Away Mode' that turns your devices on and off at your selected time; Plenty of smart plug users use the mode as an added security measure to give the illusion that someone is home.
The TP-Link HS110 is compatible with Amazon Alexa and Google Assistant so you're able to control devices connected to the smart plug just by using your voice.
Simply put, the TP-Link HS110 Smart Wi-Fi Plug is a great option for those looking to create a smart home ecosystem.
Click here to find the best TP-Link HS110 Smart Wi-Fi Plug prices in Australia
---
Ring Video Doorbell Pro with Chime Pro
RRP $399 | Official Ring Video product page
Whilst this doorbell might need to be hardwired, it's absolutely worth the added effort thanks to some advanced security features that will give you that extra sense of security, whether you're out and about or relaxing at home.
With the Ring Video Doorbell Pro, you'll be able to see who's at the door through a clear and crisp 1080HD screen, whilst the two-way talk feature allows you to communicate with your visitor. The doorbell features a customisable motion sensor, enabling you to position the camera to capture a specific area, no matter the configuration of your front entry.
Ring Video Doorbell Pro gives you the ability to answer your front door from any location from your smartphone or tablet, thanks to the handy Rings app. You can also receive instant alerts when someone presses your doorbell or the built-in motion sensors are triggered. Plus, the ability to hear and speak to anyone that's at your front door can be accessed from any location.
If you're looking for an exceptional doorbell with added security functions, Ring Video Doorbell Pro with Chime Pro will make a valuable addition to your home.
Click here to find the best Ring Video Doorbell Pro with Chime Pro prices in Australia
---
Ecovacs Deebot Ozmo 950
RRP: $999 | Official Ecovas product page
The Deebot Ozmo 950 is Ecovacs Robotics' latest flagship robot vacuum and boasts a new multi-floor mapping functionality and three hours of battery life. It has already won the IFA Product Technical Innovation Award for its mapping technology, making it the home robotics leader's most inventive product yet.
The Deebot Ozmo 950 is capable of vacuuming, mopping and has smart-home capabilities such as multi-floor mapping, control and monitoring through an app and the ability to connect to other smart home devices.
With multi-floor mapping, you're able to store multiple maps of your home in different areas so no area is left untouched. Built into the device is a new pressure retention system, with superior suction power when compared to previous models. This feature allows the Deebot Ozmo 950 to get into the 'nitty gritty' of cracks as small as 4mm.
You can control and monitor the Deebot Ozmo 950 through the Evocas Home app, as well as create virtual boundaries for both vacuuming and mopping functions, assign a cleaning zone, set a schedule and switch between modes – all from your smartphone or tablet. It can also be guided by voice through Amazon Alexa or Google Assistant.
An award winning product that is designed to make your life simpler and easier, the Deebot Ozmo 950 is a terrific robot vacuum option for your home.
Click here to find the best Ecovacs Deebot Ozmo 950 prices in Australia