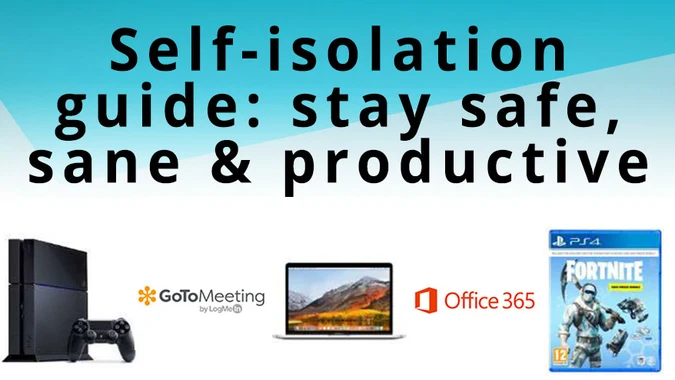 Getprice guide to self-isolation
The Getprice team reveals what you need to know about self isolation, from supplies to working-from-home and to staying entertained.
With confirmed cases of the COVID-19 coronavirus steadily increasing with each day and estimates from epidemiologists suggesting that 40% to 70% of the population will catch the disease in this first year, the likelihood that many of us will need to go through a period of self-isolation increases.
To help you prepare for that scenario, we've put together this guide with everything that you'll need in order to self isolate for the recommended 14 day period.
While we suggest you check Australian government resources for the latest up-to-date information, here's a quick summary of the latest official news on the coronavirus (COVID-19) as of March 13, 2020.
What is the coronavirus?
According to the Australian Government, the COVID-19 coronavirus is a respiratory illness caused by a new virus. Symptoms are similar to what is seen in influenza, and can range from a mild cough and fever to pneumonia. While some people recover easily, others may get very sick, very quickly. There is strong evidence that it spreads from person to person.
What is self isolation, and when should I self-isolate?
Self-isolation is when you remain inside your home (or accommodation) to avoid contact with other people. If you have been exposed to COVID-19 coronavirus, you are advised to self-isolate for a period of 14-days to monitor your symptoms.
The Australian Government has advised that you must isolate yourself under the following circumstances:
- If you have left, or transited through mainland China or Iran in the last 14 days, you must isolate yourself for 14 days from the date of leaving mainland China/Iran.
- If you have left, or transited through the Republic of Korea on or after March 5, 2020 you must isolate yourself for 14 days after the date of leaving the Republic of Korea.
- If you have left or transited through Italy on or after March 11, 2020 you must isolate yourself for 14 days after the date of leaving Italy.
- If you have been in close contact with a proven case of coronavirus, you must isolate yourself for 14 days from the date of last contact with the confirmed case.
What do I do if I get sick?
The Government has advised that if you develop symptoms (fever, a cough, sore throat, tiredness or shortness of breath) within 14 days of leaving mainland China, Iran, Republic of Korea or Italy, or within 14 days of last contact of a confirmed case, you should arrange to see your doctor for urgent assessment.
You should telephone the health clinic or hospital before you arrive and tell them your travel history, or that you may have been in contact with a potential case of coronavirus.
What if I haven't been overseas but am experiencing symptoms?
The same advice applies as above; if you become unwell and think you may have symptoms of coronavirus, seek medical attention.
As per the Australian Government's official advice, please follow the below instructions:
- Call ahead of time to book an appointment.
- Tell your doctor about your symptoms, travel history and any recent close contact with someone who has coronavirus.
- If you must leave home to see your doctor, wear a surgical mask (if you have one) to protect others.
I'm in self isolation, what do I do now?
While self-isolation can potentially be frightening, stressful and boring, you should do your best to try and remain calm and relaxed.
The Australian Government has suggested taking the following steps to help you cope during your isolation period:
- Talk to the other members of the family about COVID-19 to reduce anxiety. You can find accurate, up to date information on the NSW Health Website's COVID-19 (Coronavirus) page.
- Reassure young children using age-appropriate language.
- Keep up a normal daily routine as much as possible
- Arrange with your employer to work from home, if possible
- If you have a child who is in isolation, ask your child's school to supply lesson information and homework by email
- Think about how you have coped with difficult situations in the past and reassure yourself that you will cope with this situation too. Remember that isolation won't last for long.
- Keep in touch with family members and friends via telephone, email or social media.
- Exercise regularly at home. Options could include following exercise videos, dancing, floor exercises, yoga, walking around the backyard or using home exercise equipment (such as a stationary bicycle) if you have it. Exercise is a proven treatment for stress and depression.
- Ask your family, friends or other members of the household to pick up your groceries and medicines for you. If this is not possible, you may be able to order groceries and medicines to be delivered (including prescription medicines) online or by telephone.
What items do I need in self-isolation?
The Australian government has been clear that it does not advise that individuals bulk buy or hoard items in preparation for potential self-isolation. If you have family members that can shop for you once or twice a week, you should be fine for the 14 day period you'll be spending at home. However, if you live by yourself and your family or friends are unable to assist you, here are some suggestions for items you may need to keep on hand:
Bath and hygiene
- Supply of medication, including over-the-counter pain relievers (panadol and ibuprofen), cough and cold medicine as well as electrolytes to keep you hydrated
- Toilet paper (which you may use more of while being at home full-time)
- Feminine hygiene products
- Hand soap
- Laundry detergent
- Diapers, formula, baby wipes and other infant needs
- Body wash, shampoo, conditioner and skincare needs
Food and kitchen
Pantry
- Dried beans, rice and other grains, like oatmeal
- Canned fish, soup and stews
- Oil, salt and pepper
- Smoothie blends and protein powder
- Coffee and tea
- Snacks that have a longer shelf life, like dried fruit and nuts
Freezer:
- Meat, poultry and fish
- Vegetables and fruit
Other:
- Pet food
- All-purpose cleaning spray
- Dish soap and sponges
- Paper towels
Again, we'd like to reiterate that the government advises not to bulk buy products on the off chance you'll need them – this can result in stock shortages and disproportionately affects underprivileged individuals, who often do not have the capacity to buy the products they require in advance.
Working remotely
A lot of employers have already gone down the route of allowing their employees to work from home under regular circumstances, as it's been well established that working remotely can provide benefits to not only the employee, but also the employer – better work-life balance, better focus, less stress, and avoiding commuting have proven to reduce company overheads and turnover whilst increasing productivity and moral.
But what if your workplace doesn't have an official working-from-home policy? Whether you're an employer or an employee, it may be time to consider instituting one – even if it's only in the short term.
Not sure how to make it work for your business? Thankfully, in 2020 there are lots of options and in today's technology driven world, it has never been easier to work remotely. Here are some of the essential tools and services:
If you primarily work at a computer, a laptop can allow you to easily take your job with you wherever needed. Many workplaces now issue laptops as the default computing device of choice, you may want to invest in purchasing a laptop. They are portable, versatile and can easily be plugged into multiple screens with separate keyboards and mouse for those who like the traditional set up.
You can get away with a desktop but if you're called into a physical meeting and you need to share your work, you're going to need a laptop.
Video conferencing
There's a heap of options for video conferencing available, but GoToMeeting is one of the most consistently recommended. It's a standalone web conferencing service from LogMeIn, and provides audio and video conferencing capabilities as well as screen sharing.
One of the best things about this software is that it's mobile friendly – you can set up and start a conference on any type of smartphone, perfect working remotely and keeping up-to-date with your work and colleagues.
Want to know more? Our sister publication TechRadar has listed the best video conferencing software 2020, including GoToMeeting at number 1 – click here to jump to the article.
Cloud-based office suite
Microsoft's Office 365 is a cloud-based solution that you can use on either a computer, mobile device, or smartphone. All your files are saved in the cloud and synced between devices, so you can easily share documents between colleagues and clients without ever having to leave home.
Read more about the best online collaboration tools of 2020, software for shared editing and communications at TechRadar.
How to stay entertained
The thought of spending two weeks at home does sound appealing but going so long without stepping a foot outside your door can get pretty boring. We have put together a fun list that will help you get by if you start to feel a bit restless.
Movie and TV streaming services
There are a multitude of streaming services available for you to find something to watch – they include:
Netflix is a streaming service that offers a wide variety of award-winning TV shows, movies, anime, documentaries and more. Plans start from $9.99 per month – no extra costs or contracts.
If you sign up to Amazon Prime, you will become an Amazon member and you'll get fast, free delivery on orders, great entertainment, exclusive early access to deals and more. Amazon Prime is just $6.99 per month with no lock-in contracts.
Stan is an Australian streaming service that also provides a wide variety of award-winning TV shows, movies, documentaries and more. Streaming in HD and 4K is available and plans start from $10 per month with no lock-in contracts and a free 30-day trial.
Featuring over 50 sports Live and On-Demand, Kayo is Australia's biggest sports streaming service – you'll get the biggest of Aussie sports the best from overseas. You can start Kayo on a 14-day free trial and pay only $25 per-month or $35 per-month for the premium package.
Gaming devices
Haven't played since you were in highschool? Maybe it's time to revisit an old favourite to keep you entertained:
Sony's PlayStation is more than just a device to play games – whether you're into gaming, HD movies, television, music, or all of the above, this console has something great for everyone.
Still tossing over whether you want one? Checkout the review by our colleague over at TechRadar that will help you make up your mind.
Already have a PlayStation? Explore the great games available that you can order online.
The Xbox One X is the most powerful console around with native 4K HDR gaming – meaning your gaming experience will be stunning with a fantastic level of detail.
Need for info? Check out the review by TechRadar here.
Already have a Xbox One X? Discover the great games that you can order online.
Nintendo Switch can transform from a home console into a portable system in a snap, so you get more time to play the games you love, however you like, anywhere you like (even though that may be involve switching between the couch and bed for a little while).
Want to find out more? Read TechRadar's review here
Already have a Nintendo Switch? Find more great games from Aussie online retailers.