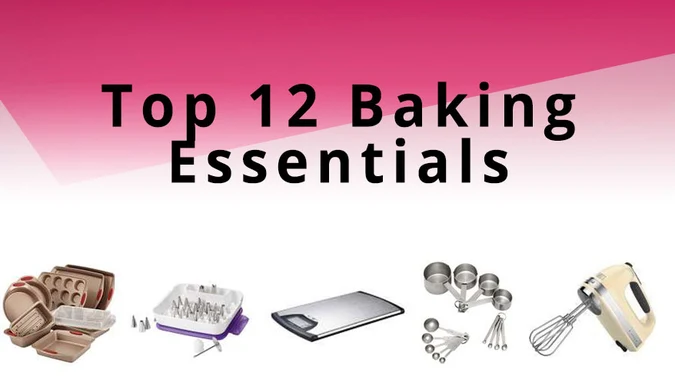 Get baked: the top 12 items you need for cake-mastery
The Getprice team breaks down the top 12 items you'll need to become the master of your own kitchen and a legend of producing baked goods that your friends and family will be talking about for days.
So you've decided to join the mass and start creating your own culinary masterpieces – kudos to you! Before you jump into the kitchen, armed with the latest recipe from MasterChef, there are a few key baking tools you'll need in order to set yourself up for success.
Whether you're new to the world of baking or consider yourself a renowned home cook, we've put together a simple guide on the basics, from rolling pins to mixers to ensure your baking experience is effortless and produces superior results!
Hand / Stand mixer
1. First on our list is a hand/standing mixer (otherwise known as as food mixer) – whilst some may say this is not essential, we disagree as recipes often call for long periods of mixing and at different speeds so unless you have a lot of patience and a really strong arm, we would highly recommend investing in one to save time and minimise effort. Most mixers (whether they are standing or hand-held) also come with a variety of attachments so they can be used for other cooking ventures aside from baking.
Measuring cups and spoons
2. Baking is not only an art form, it's a science, carefully measuring each ingredient to produce the desired result – you would be surprised at the amount of times a person would over (or under) estimate the size of a teaspoon, tablespoon or cup which could lead to a baked disaster. A set of measuring cups will range from 1 cup down to 1/4 cup, and the same goes with a set of measuring spoons.
Spatulas
3. A spatula is a multi-use tool that is mainly used for scraping down every last bit of batter from your mixing bowl. When choosing a spatula, we recommend picking one that has a long handle and is made out of silicone as they're heat resistant and will also make a handy tool for when you're cooking eggs or sauteing.
Cooling rack
4. Cooling racks are used to help the cooling process of your freshly baked goods. They're also useful for foods outside of baking, such as draining the excess grease from fried chicken or fish. There are two types of racks – ones with parallel wires and racks with grid patterns. Whilst both would complete the job, we would recommend using racks with grid patterns for baking as your cakes may get caught between the spaces of a parallel wire rack.
Kitchen scales
5. Without doubt one of the most important items on this list, kitchen scales are an essential part of any baker's (or cook's) repertoire as measuring ingredients inaccurately can be a costly mistake. By getting a digital scale, you can accurately measure grams or pounds (depending where your recipe originates from). Most also come with a 'tare' function so you can place a bowl on the scale and reset it to show zero for easy measuring.
Pastry brush
6. If you're a beginner baker, you might not have heard of this tool – a pastry brush is used to coat the tops of pastries or pie crusts with an egg or milk wash (resulting in a golden brown top). They can also be used for greasing pans or brushing melted chocolate on top of your cookies. Back in the day, pastry brushes were made out of animal hair but you won't find too many of those around nowadays. You'll commonly find pastry brushes that use silicone bristles resulting in less fall out – they're also heat and bacteria resistant.
Sieve
7. If you don't want clumps of flour in your batter, you're going to need a sieve. Most recipes call for sifted flour (or sugar) – especially if you're making something delicate like a souffle. They're also useful for dusting surfaces and decorating desserts with icing sugar or cocoa. The majority of sieves are made out of stainless steel and come in a variety of sizes. If you're looking to purchase only one sieve to begin with, we recommend one on the larger side for convenience as it will fit a couple of cups of flour with ease.
Skewer
8. A skewer is used to check if an item has been fully cooked – you simply insert the skewer into your baked good and if it comes out clean, you know it's done. Or if it comes out with batter attached, it's going to need a couple more minutes. Another tool that is commonly used to test if cakes are cooked is a butter knife, however, this leaves a rather large sliver in your cake (especially if you test it multiple times) so it's best to utilise a skewer.
Rolling pin
9. A rolling pin is used to flatten out dough that tops pies, forms the base for a pastry crust or also to shape the perfect cookie or biscuit. If you're a beginner, we recommend using the 'roller' type (vs the rod style) as it's easier to use and requires less pressure.
Muffin/cupcake pan
10. Yes, they're two different things – muffin pans are deep and more wide-set (like muffins) vs a cupcake pan which is smaller and is shallower. As for which pan you should get, that depends on what you think you'll bake more often (although both can be used for cupcakes and muffins if you're not that bothered by accurate sizing). You can choose between muffin or cupcake pans in either 12 or 6 cups. These are normally constructed out of aluminum with a non-stick coating.
Round cake pan
11. You'll need at least one cake pan to get you started, however, two would be preferable as most cake recipes make two layers, that way you can bake both at the same time. Cake pans also come in a variety of sizes but your average recipe would call for an 8-inch round cake pan as it's the most common. To start off with, a spring-form pan with a non-stick coating would be best suited for a beginner baker.
Sheet pan
12. Last but not least is the humble sheet pan – a versatile and underrated essential piece of kitchen equipment. A sheet pan can be used for more than just cookies, it can also be used to make sheet cakes, bread and numerous other items that require an oven to cook. A three-quarter sheet pan (21 by 15-inches) or half-sheet pan (18 by 13-inches) will meet most home bakers' needs.

Now that you know what the basic essentials are, we've gathered 5 products from this list to help your get started:
---
KitchenAid KHM926 Hand-mixer
RRP: $179 | Official KitchenAid product page
First thing's first, you're going to need an electric mixer because (trust us) hand whisking gets old, real fast. That's where the KitchenAid KHM926 comes into play – this powerful hand mixer has 9 speeds and a handful of attachments for mixing, kneading, whipping and blending, making it the perfect go-to small appliance.
Click here to find the best KitchenAid Hand-Mixer prices in Australia
We didn't go for KitchenAid's stand mixer because it's a bit expensive (especially if you're just starting out), but if you want to go all in and grab yourself a fancy mixer will all the bits-and-bobs, click the following link:
Click here to find the best KitchenAid Stand-Mixer prices in Australia
---
Avanti Baker's Dozen Stainless Steel Measuring Cup And Spoon Set
RRP: $66.95 | Official Avanti product page
This baker's set from Avanti has all the essential measuring equipment that you will need to ensure your baking is consistently scrumptious everytime. In this set, you'll find the following:
- Measuring spoons include: 1/8tsp, 1/4tsp, 1/3tsp and 1 tbsp
- Spice spoons include smidgen, pinch, dash and tad
- Measuring cups include 1/4 cup, 1/3 cup, 1/2 cup, and 1 cup
Made of out stainless steel, this durable 13-piece set will be sure to last you a lifetime, right throughout your baking voyage – get ready to set sail on the good-ship-cake-pop and grab your pack today by clicking the following link:
Click here to find the best Avanti Baker Set prices in Australia
---
Sunbeam Stainless Food Scales
RRP: $79.95 | Official Sunbeam product page
Equipped with four high-precision sensors and a large LCD display, this scale from Sunbeam will prove to be a very helpful kitchen assistant. With this scale, you'll be able to accurately weigh ingredients and with the 'Tare' function, you'll be able to zero the weight when using any type of container. The Sunbeam Stainless food scale is also ultra slim, so it will easily fit on your bench or in your drawer without taking up too much space.
A great investment for the up-and-coming baker – click the link below to find the best prices:
Click here to find the best Sunbeam Food Scale prices in Australia
---
Wilton Decorating Piping Tip Set - 22 Pieces
RRP: not available | Official Wilton product page
With this decorating piping tip set from Wilton, you'll be able to transform your cupcakes into mini works of art! This 22-piece set contains an assortment of round, star, petal and leaf tips as well as specialty tips that would be suitable for experienced or beginner bakers looking to jazz up their cooked creations.
The recommended retail price was not available on Wilton's website, however, you can get this set for around $55 – click the link below to find the best prices on the web:
Click here to find the best Wilton prices in Australia
---
Rachael Ray 10-Piece Cucina Nonstick Bakeware Set
RRP: Not available | Official Rachael Ray website
From sweet potato fries to a fresh batch of blueberry muffins, you can bake it all with this 10-piece nonstick bakeware set from Rachael Ray. In this set, you'll find two 10-inch x 15-inch cookie sheets, two 9-inch round pans, a 9-inch square pan, two-piece meatloaf tin, a 9-inch x 13-inch covered rectangle pan and a 12-cup muffin pan– perfect for any beginner setting off on their baking journey.
The pans in this set are constructed from durable carbon steel and are lined with long-lasting latte-colored non-stick coating so your baked goods will easily be released and have near-flawless edges. In addition to this, each pan is made with rolled rims with heat-safe silicone grips that are oven safe to 232 degrees-celsius.
Whilst we couldn't find the recommended retail price, this bakeware set is reasonably priced and you can find it online using the following link:
Click here to find the best Rachael Ray Bakeware Set prices in Australia
---