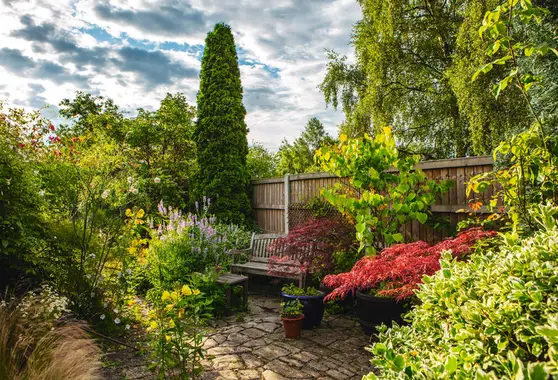 5 inspiring and budget-friendly ideas to transform your garden into an outdoor dream
We've put together some simple and affordable ideas to spruce up your garden and transform it into your very own fantasy getaway.
When you step outside into your garden or onto your balcony, what do you see? Do you see an overgrown weed manifestation or a glowing oasis? Does it look dull and bland or full of life and luscious colour, almost luring you in with its festiveness? If it's the former in both cases and you want to add a little spice to your home, your garden or outdoor space is a great place to begin.
Gardening can be very therapeutic and the gratification that comes along with viewing a magnificent landscape that you designed and built yourself is priceless – but you don't have to spend a lot to make a big difference.
First thing that you will need is a vision, and that won't cost a dime – if you were to picture your favourite garden, what would it look like? What would bring you the most happiness and enjoyment? Where you can see yourself spending hours outside? It could be a comfy outdoor furniture set so you can relax with your favourite book, some aesthetically pleasing fairy lights to add that 'awe' effect or an array of colour pots and plants that remind you of a favorite childhood park for those nostalgic memories.
Once you've got a picture in your head of what your ideal garden looks like, it's time to work with what you've got. Some of us are fortunate to have an unlimited budget but for those who don't, you can still transform your garden into your dream haven without blowing through any savings.
To help you make your dream a reality, we've put together 5 ideas to spruce up your garden and turn your outdoor space into a stunning retreat.
---
Get started with a container garden
This option is great for people with limited outdoor space that want to enhance the appeal of their balcony or patio. A container garden can hold a single plant or a combination of plants, it all depends on what outcome you want. If your outdoor space is in desperate need of colour, this is a great way to spice it up with a mixture of plants.
To ensure your plants have the best chance of survival, we recommend researching the plants you wish to purchase as the season and sun positioning will have a big impact on whether or not your plant lives a long life. You can do this by speaking to your horticulturist at your local garden centre.
Click here to grab the pots you'll need to get started on your outdoor space.
---
Make it comfortable and add some outdoor furniture
Enjoying a nice cuppa while relaxing on some comfy furniture in your outdoor space is as relaxing as it sounds. Not only does outdoor furniture provide you with a tranquil area to enjoy your next hot/cold beverage or gathering with your friends, it adds a level of sophistication and appeal to your external environment.
Do you have a large family or like to entertain and have an abundance of space? A 6-8 seater table and chair set would be perfect for you. If you're single (and ready to mingle) with limited space, you can try adding a romantic cafe table and chair set for those late night one-on-ones. If you're after a space where you can enjoy your much needed alone time, an egg chair is divine for relaxing while enjoying a good book and basking in the sun.
Click here to find our extensive range of outdoor furniture to suit your needs and your budget.
---
Spruce it up with some succulent plants
Is the thought of being responsible for plants putting you off? Are you too traumatised from all the times your plants have died? It's time to move on from your grief (that's what they would've wanted you to do) and match up with a plant that suits you and your brown-thumb lifestyle.
Introducing the humble succulent plant – a plant that is so sturdy, almost nothing can destroy it. These babies can go weeks without water and require little-to-no maintenance. Another great thing about them is that they come in a variety of shapes and colours so you can get creative and make your own stylish array of succulents that is sure to impress your guests and add a much loved oomph to your outdoor area.
We've got plenty of information about succulents to make you fall in love again with plants – check it out here.
---
Explore your eclectic side

You don't have to spend a fortune on decor to transform your outdoor space into your dream – you simply need to think outside the box and be open to new ways of decorating.
An eclectic mix of found or discovered pieces at your local trash n' treasure can add character to a space which brings it to life. Think an old wheelbarrow filled with an array of colourful flowers – a very charming piece to add to your backyard. If you are limited on space, an old gumboot with a seasonal Daffodil sprouting from the top would add a sweet touch to a cosy area. The sky's the limit when it comes to your imagination so get creative and make your space uniquely your own.
Click here for some garden decor to get your started.
---
Add some sparkle with some fairy lights


Add some sparkle with some fairy lights
Last, but definitely not least are the glamorous fairy lights – these lights can transform any ordinary outdoor space into a magical escape. Whether it's a simple outdoor BBQ, your next big house party or a quiet night alone at home, these lights will create an ambiance to your space that is truly awe inspiring.
Fairy lights are available in a variety of sizes and lengths, as well as colour – you can find them in white, yellow or multi-coloured. Solar-powered fairy lights are the best for outdoor use so you don't have to worry about wiring them back into your house. And remember the golden rule, less is more so don't go too crazy with your lights otherwise during the day it will look like a wire jungle.
As actress Goldie Hawn once said, "lighting is everything" and we couldn't agree more – click here to grab your fairy lights today.
---