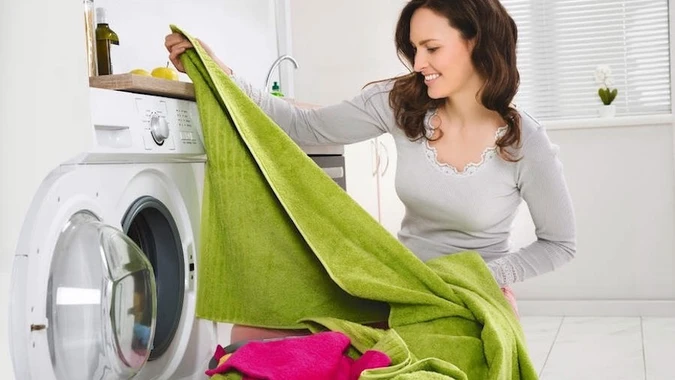 Best dryers in Australia 2021
Say goodbye to damp clothes and hello to warm and cosy with the best dryers on the market to suit your needs and budget.
Are rainy days putting a damper on your fresh laundry? For those days when hanging your clothes out to dry isn't an option, a dryer can be a household essential.
If you're ready to invest in a new dryer but you're not sure which one is worth your money, we've taken the guesswork out of buying and have done the research so you don't have too. Here's what you should know before you buy a dryer, along with some of the top dryers in Australia to suit a range of budgets.
How to buy a dryer
There are various different types of dryers: condenser, heat pump, gas and vented.
Vented machines are usually your cheapest option to buy, though the downside is they consume a lot of energy and can be quite the expense on your power bill. These clothes dryers work by pumping moisture directly out into the air, so it's important to have a well-ventilated laundry, otherwise you'll run the risk of mould forming.
Condenser dryers work by condensing the moisture collected during the hot air drying process. The water is then stored in a removable container that must be emptied, while other models use a hose to automatically drain the water.
Similar to a condenser dryer, a heat pump dryer also collects moisture from your laundry. However, a heat pump dryer also recycles the air it uses to dry your clothes, so while it can be an expensive investment upfront, it consumes less energy and is cheaper to run. It also uses a lower temperature to dry the load, offering better protection of your garments.
There are also gas clothes dryers to consider, which are much the same as a standard dryer with the exception that they run on gas instead of electricity. These aren't very common in Australia, but it could be worth consideration if you already have gas in your home, as they are quite energy efficient.
Over the past decade, dryer technology has dramatically improved in ways which increase energy efficiency, safety and reduce cloth shrinkage. Most modern dryers are now automatic, using sensors that measure the amount of moisture in the clothing and switching off once they're dry – a great feature to look out for when purchasing a dryer.
Now that you know the different types of dryers, we've listed our favourite models on the market this year to suit all needs and budgets.
---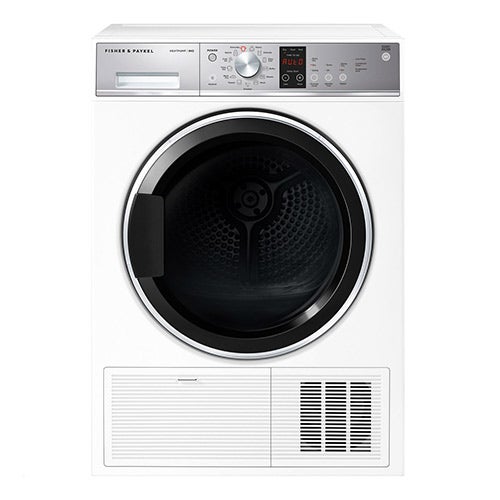 Fisher & Paykel 9kg Heat Pump Dryer (DH9060P1)
RRP: AU$1,799 | Official Fisher & Paykel product page
First off the rank is the excellent Fisher and Paykel DH9060P1 – this heat pump dryer has a 9kg capacity and is designed for larger households of up to three to four people. One of the best features of this dryer is the option of 13 different drying cycles based on the type of item being dried, so you can say goodbye to shrinkage.
And if you have something that can't be tumble dried – say a pair of shoes or a precious toy – there's a drying rack that fits into the dryer for all your delicate items. This Fisher and Paykel clothes dryer also has an 8-star energy rating, making it one of the best energy-saving dryers on the market.
Click here to find the best Fisher & Paykel DH9060P1 prices in Australia
---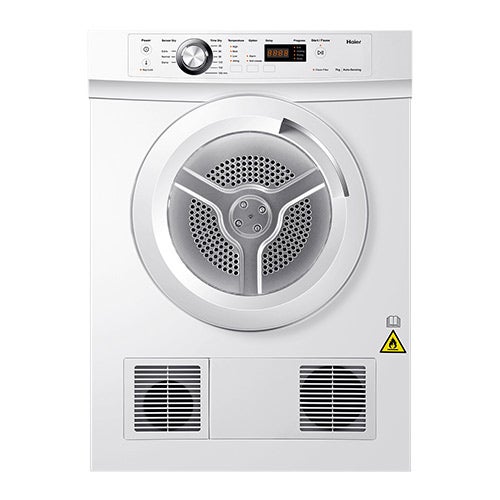 Haier 7kg Sensor Vented Dryer (HDV70E1)
RRP: AU$689 | Official Haier product page
The Haier 7kg Sensor Vented Dryer HDV70E1 is a great dryer for those on a budget. It has an RRP of AU$689, but it can often be found for much less than that if you shop around. Its 7kg capacity is best-suited to couples, small households, or those who don't need a dryer all too often. Because it's a sensor dryer, it monitors the temperature and moisture level of clothing for optimum results. The clothes dryer also comes with a wall-mounting kit and bracket, as well as a two-year manufacturer warranty.
Click here to find the best Haier HDV70E1 prices in Australia
---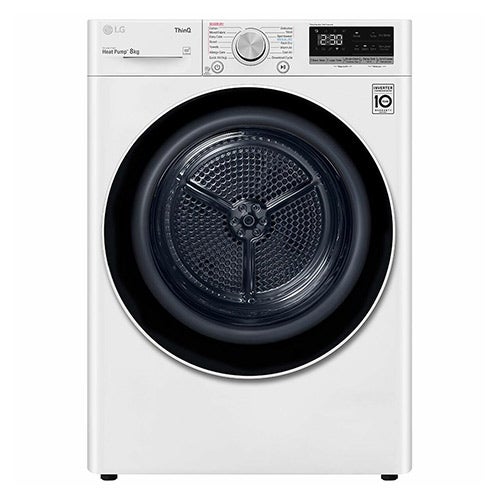 LG 8kg Heat Pump Dryer (DVH5-08W)
RRP: AU$1,859 | Official LG product page
This LG heat pump dryer does come with a hefty price tag, but is worth investing in if you've got a large family. The clothes dryer features 13 drying programs suited to everything from delicates to duvets, and it boasts an impressive 9-star energy rating that is sure to keep the power bills down. It's able to do this by using a compressor instead of an electric heater to create the hot air, so it won't use as much electricity as a traditional vented dryer. While the RRP is high, we've seen retailers sell the LG dryer for a little as AU$1,649.
Click here to find the best LG DVH5-08W prices in Australia
---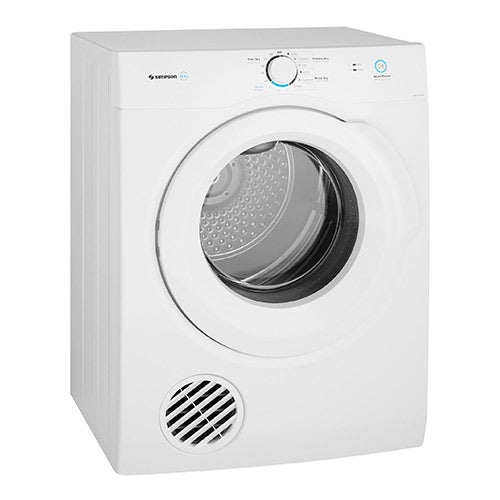 Simpson 6.5kg Vented Dryer (SDV656HQWA)
RRP: AU$699 | Official Simpson product page
Simpson is a well known and respected brand in Australia, and its 6.5kg vented dryer is one of the cheapest clothes dryers on our list. It features an anti-tangle reverse tumbling action that results in even drying every time, and its smaller size is suited for households of one or two people. Be aware that as a vented dryer, it consumes much more power than other types of dryers – this particular model has a 2-star energy rating.
Click here to find the best Simpson SDV656HQWA prices in Australia
---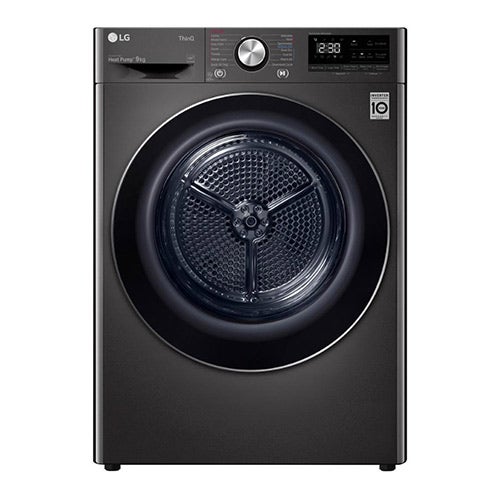 LG 9kg Heat Pump Dryer (DVH9-09B)
RR: AU$2,079 | Official LG product page
This is one of LG's top-shelf dryers, and it has a sizable capacity of 9kg to cater to families. With a sleek design and smart capabilities on its spec sheet, it's a premium clothes dryer with a suitably hefty price tag to match. Despite that though, this heat pump dryer has a stellar energy rating of 9 stars.
As a heat pump dryer, it's equipped with a compressor to create hot air to help you save on energy usage. When you start a load, you'll also have the option of choosing a dryer setting that conserves energy, or one that uses more power to reduce drying time, giving you much more control over the machine.
LG also promises the dryer regularly cleans its own condenser while in use, removing lint and dirt to ensure it keeps running in top-notch condition. While the RRP is a little eye-watering, it's regularly sold for a little less than its asking price.
Click here to find the best LG DVH9-09B prices in Australia
---