STEAM DECK: WHEN IS VALVE'S NEW CONSOLE COMING TO AUSTRALIA?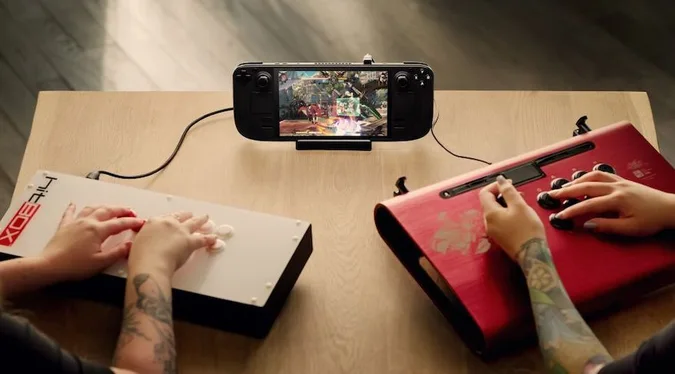 Valve's Steam Deck is a powerful handheld gaming console designed to run the entire Steam library. That is no small feat, as Steam is by far the biggest PC gaming storefront, and boasts countless thousands of games ranging from tiny indie titles through to the likes of Grand Theft Auto 5 and Valheim. It's set to give the Nintendo Switch a run for its money, but it could also help broaden the PC gaming market. Sure, that's a gargantuan market already, but Steam Deck will make it more accessible than ever.
Here's why: This gaming console comes packed with hardware that can easily give the last generation of consoles a run for their money, albeit with a resolution ceiling of 720p. Users won't need to worry about hardware upgrades, because the Steam Deck brings PC gaming into a console-like environment. Better still, users can plug the Steam Deck into a television and monitor, pair controllers and other peripherals, and use it as a big screen gaming device.
With the announcement of the Nintendo Switch OLED model, which adds a new and larger screen but does nothing to address the handheld console's power limitations, fans of portable gaming are hungrier than ever before for something with a bit more grunt. The Switch Deck is set to deliver that, but when?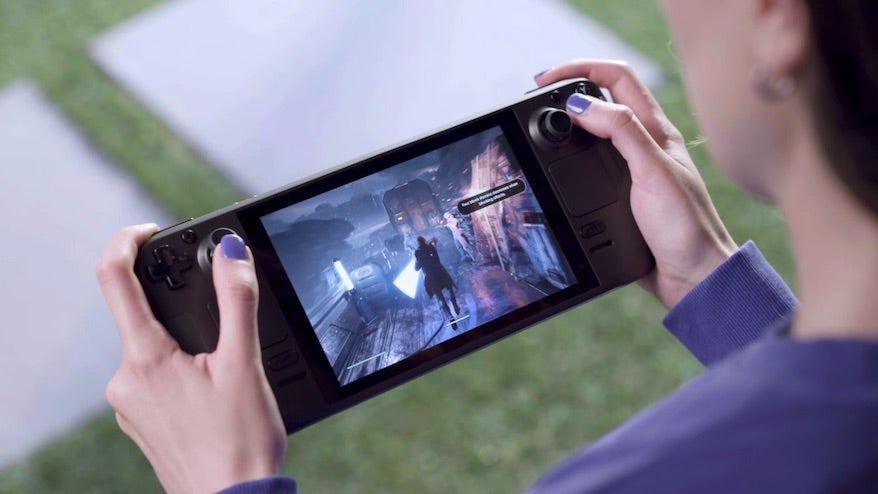 Steam Deck release date in Australia
As of August 2021, the Steam Deck has no confirmed release date in Australia. For now, the Steam Deck is only available to reserve in the United States, United Kingdom and the European Union. The Steam Deck release date is December 2021 for these regions, though with reservations quickly snapped up in July, many customers won't receive their units until Q2 2022.
Valve says other regions will be able to purchase the Steam Deck in 2022, though it has yet to specify which regions, and with such high demand it may be a while before Valve bothers with a market as small as Australia. As a result, we predict that the Steam Deck won't be available in Australia until late 2022. But if you can't wait there are ways around it. Australian users can use a VPN to access the Steam Deck pre-order page, and then employ a parcel forwarding service to have it shipped to Australia. That's not ideal, but if you're desperate to get one as soon as possible, it's one option.
When the Steam Deck does release in Australia, it's likely that Australian users won't purchase direct from Valve anyway. The Valve Index VR headset has long been unavailable to Australian customers, but will finally become available through EB Games in August 2021.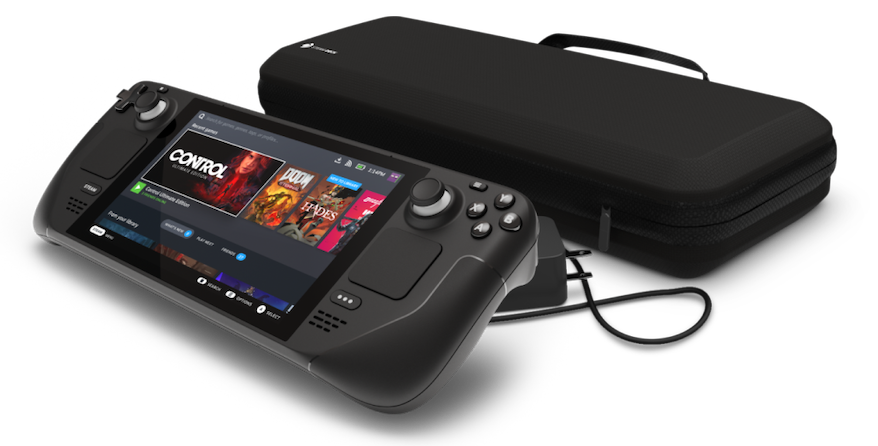 Steam Deck price in Australia
Steam Deck won't ship to Australia until 2022 at the soonest, and as a result there isn't an official Australian price just yet. The Steam Deck price in the United States is $399 for the base 64GB version, $529 for the 256GB version and $649 for the 512GB version.
That means, from the vantage point of late July 2021 at least, the base model Steam Deck will likely cost around AU$540 in Australia; the 256GB model will cost around AU$717, while the 512GB model will cost around AU$880.
As most attentive consumers in Australia will know, Australian regional prices are very rarely a simple AUD equivalent of USD or GBP. Still, the Valve Index Australian prices are pretty close to their US equivalents, so there's every possibility you'll need to spend at least AU$550 for a Steam Deck. Considering the AU$539 price tag on the Nintendo Switch OLED model, it's a very reasonable price.
Steam Deck specs and performance
Valve says that every single game on Steam will be playable on the Steam Deck, and that all will run at a bare minimum of 30 frames per second, and up to 60 frames per second on the 800p 7-inch screen. That's going to require power heretofore unseen in a handheld gaming console.
The Steam Deck boasts an AMD APU (basically a hybrid of a CPU and GPU) based on Zen 2 and RDNA 2 AMD architecture. The former architecture is the one that powers AMD's Ryzen 3000 CPUs, while the RDNA 2 architecture is the same used in the Xbox Series consoles, though the Deck won't rival those. For reference, the Xbox Series S has 20 RDNA 2 compute units, while the Deck has 8. Don't worry: the Series S is designed for playing games in 4K at 60Hz, while the Steam Deck is designed for playing games at 720p, so performance won't be a big issue.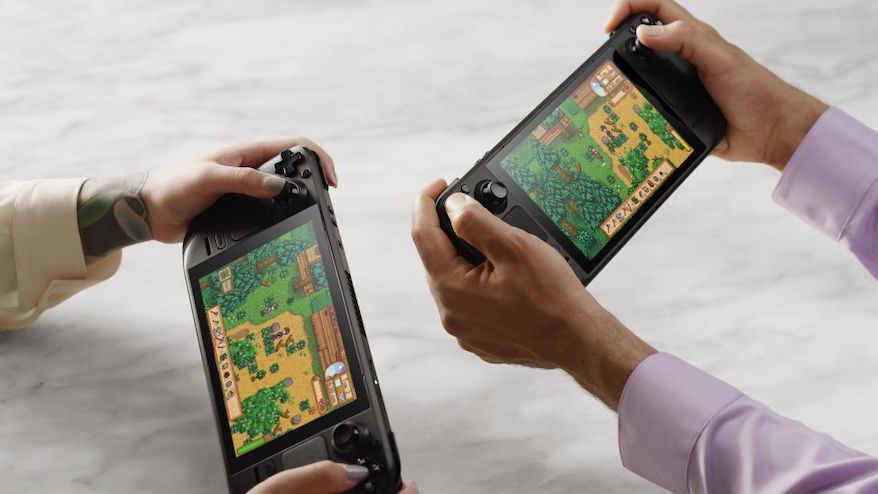 For reference, Valve has shown Remedy's 2019 action game Control running on the device. This game requires a beefy PC, but in Valve's footage it appears to run at a smooth 30 frames per second at around medium settings. Meanwhile, the Deck won't break a sweat running other demonstrated titles including Portal 2 and Hades. Interestingly, Valve has confirmed that users will be able to set the console's framerate limit to 30 in order to preserve battery life.
On that note, Valve's Pierre-Loup Griffais has said that the Steam Deck's battery life can run between 2-8 hours. Griffais also specified that Portal 2 with an unlocked framerate will see the battery depleted in around 4 hours, while if limited to 30 frames per second, it'll last between 5 and 6 hours.
The Steam Deck boasts 16GB of RAM, stereo speakers, Bluetooth and USB-C connectivity, as well as a 3.5mm headphone jack. It's on the larger side, considering its handheld nature: 298 x 117 x 49mm are its dimensions, and it'll weigh over half a kilogram at 669 grams.
Steam Deck in Australia: should you buy it?
The Steam Deck is an incredibly promising device, and it seems unlikely that it won't be able to play the vast majority of Steam's library right out of the gate. That said, the variability of performance is still yet to be determined: Valve has done a lot of its own testing, but Valve has over 50,000 games in its inventory. Meanwhile, the Steam Deck probably won't be able to run every game coming out in the next five years, though that'd be a hard ask, and anyway, aged hardware hasn't hurt the Nintendo Switch's popularity.
It's an exciting console, but having it release late in Australia may be a blessing. Any problems encountered with the Deck on a software level will likely be ironed out as best as they can be by the time we get the device.