DYSON'S HAIR CARE RANGE GETS A NEW COLOUR THIS CHRISTMAS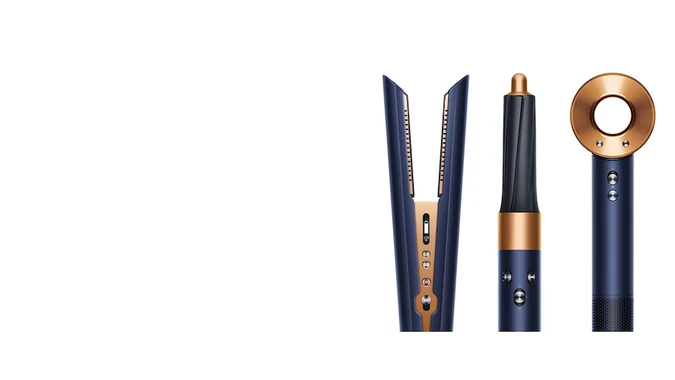 With the holidays fast approaching, Dyson has unveiled a new colour option for its hair care range. Adding to the existing Iron/Fuschia (grey and pink), Black/Nickel (greyscale) and Nickel/Copper (grey and brown), there's a brand new Prussian Blue/Rich Copper colour combination for the Dyson Corrale hair straightener, Dyson Supersonic hair dryer and the Dyson Airwrap Styler.
The elegant new colour palette adds an extra bit of pizzazz to your style, offering a very royal colour combination to enhance your hair routine. Dyson expects the devices in the new colour to be bestsellers this holiday season, saying that they'll make great gifts if you're looking to get something special for that special someone. Just don't expect them to be discounted though.
The colour combo was inspired by the interiors of the car that Dyson's Electric Vehicle project was designing. While the electric car has since been scrapped as it was proving too expensive, the luxurious colours remain and we think Dyson has done well to bring them over to the hair products. We wouldn't mind seeing it on the very popular cordless vacuum cleaners either.
Dyson's festive edition releases are available for order directly from the Dyson website. As part of the gifting season; each machine comes paired with a couple of accessories such as the Dyson-designed paddle brush, detangling comb and matching cases.
---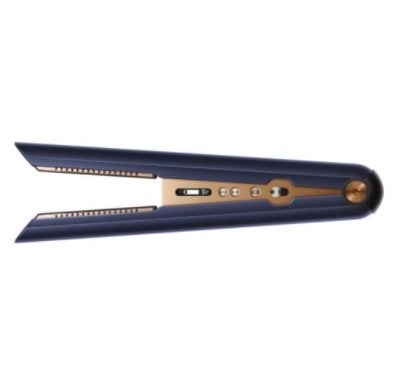 Dyson Corrale Straightener in Prussian Blue and Rich Copper gift set | $699
Straightening hair need not be a total upper body workout everyday if you've got the right tools to get it done. Get salon-like finish at home with Dyson Corrale hair straightener. This cordless tech gives you bouncy moisture-rich hair at its lowest heat setting and takes a fraction of the time that most other hair straighteners would. Don't fry your hair, as Dyson's flexi-plate technology applies heat evenly in a single application preventing you from overdoing your hair. Save time and protect your hair with the best money can buy.
---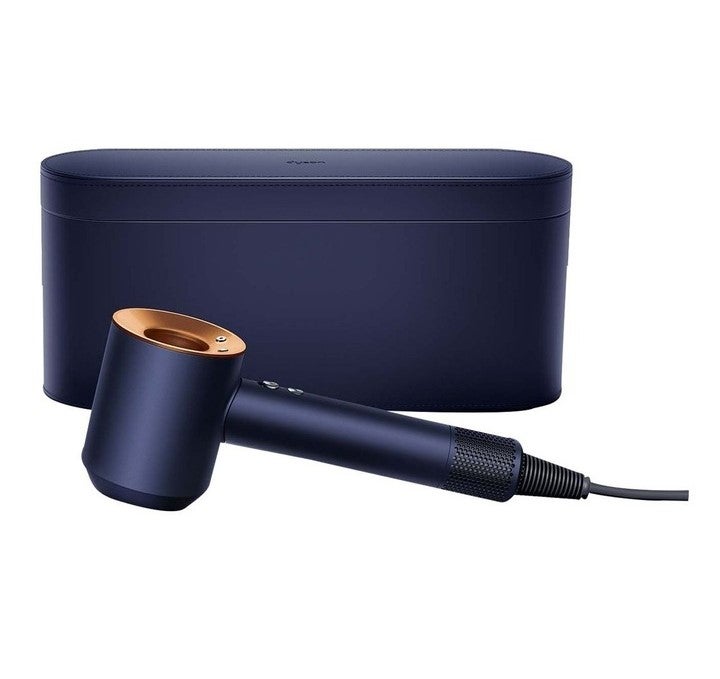 Dyson Supersonic hair dryer in Prussian Blue and Rich Copper gift set | $599
This hair dryer has been around since 2016, giving credence to not just how popular it is, but also how good it is. You can't deny this absolute powerhouse the credit for revolutionising how we deal with hair dryers nowadays. Suitable for all hair types, this compact hair dryer is relatively quieter than most modern-day hair dryers, with heat and airflow buttons situated on the barrel. For ease of use, there are magnetic attachments available as well so you can get that perfectly coiffed hair.
---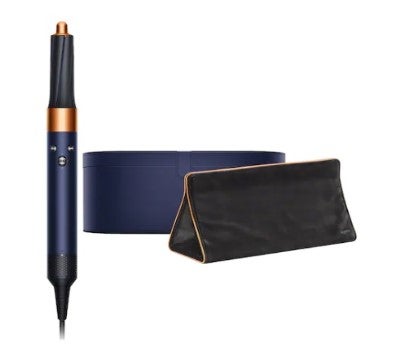 Dyson Airwrap styler in Prussian Blue and Rich Copper gift set | $799
Long or short hair, wet or dry, get tight curls or waves with Dyson's Airwrap styler. In fact, Dyson has kept in mind that people wear their hair at different lengths and has different Airwraps to suit such needs. So no matter what, you can create volume and bounce with the intelligent heat technology from Dyson. Prevent breakage and less frizz by curling hair in the lowest setting. This easy-to-use hair tool is easily a cult favourite with reviews appreciating its extraordinary performance.
---
Admittedly all these hair styling tools are expensive but, with Dyson, you're making an investment for the future and looking after your precious locks. They make styling less of a chore each day and there's no denying Dyson's engineering prowess makes them the best in the business.